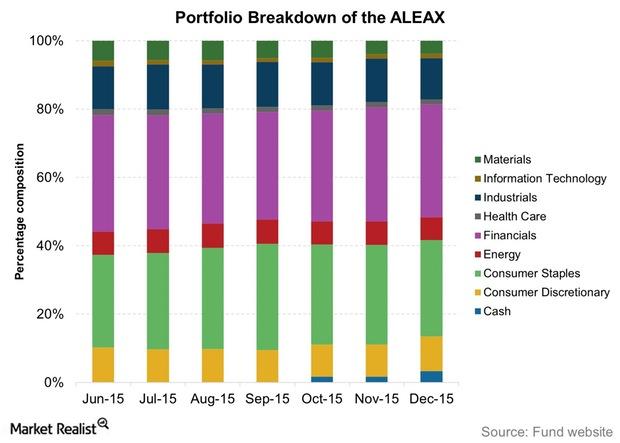 The Aberdeen Latin American Equity Fund: Its Portfolio in 2015
By David Ashworth

Jan. 29 2016, Updated 6:35 a.m. ET
The Aberdeen Latin American Equity Fund
The Aberdeen Latin American Equity Fund – Class A (ALEAX) seeks long-term capital appreciation "by investing at least 80% of the value of its net assets in equity securities of Latin American companies. Remaining assets may be, but are not required to be, invested in equity securities that are expected to reflect developments in Latin America."
Fund managers aim to invest across countries in Latin America. However, they retain the flexibility of investing a large portion of their assets in a single nation. Managers conduct fundamental analyses to select securities for the portfolio and also adopt a bottom-up approach, which focuses on individual stocks instead of sector or country trends.
Article continues below advertisement
As of December 2015, the fund's assets were invested across 39 holdings and it was managing assets worth $2.6 million. As of December, its equity holdings included Embotelladora Andina (AKO.A), Banco Santander-Chile (BSAC), Tenaris (TS), Bancolombia (CIB), and Grupo Financiero Santander Mexico (BSMX), which together comprised 12.1% of the fund's portfolio.
Historical portfolios
The fund's December sectoral allocation shows that financials form one-third of the fund's assets and are the single-largest sectoral holding. Exposure to the sector was mostly maintained at this level for all of last year. Consumer staples were the second-biggest sectoral holding.
Until November, the only other sector with double-digit exposure was industrials. However, in December, the consumer discretionary sector joined the club. Combined, these two sectors formed 22% of the portfolio. The fund is not invested in the utilities or telecom service sectors.
Article continues below advertisement
One notable change in the fund's portfolio in 2015 is the exposure to stocks from the consumer discretionary sector. Exposure to the sector stood at 26% at the beginning of the year. This rose to over 31% in September and now stands at 28.1%. Another notable aspect is the portfolio's aversion to materials as 2015 progressed. Whereas the materials sector formed 7.8% of the portfolio at the beginning of 2015, its share was reduced to 3.8% in December 2015.
Investors should note that fund managers have stuck to their stock picks for the most part, resulting in a low portfolio turnover rate. This is generally a good thing as it shows that they're investing for the long term and have conviction in their choices. However, it may not always be positive, because occasionally managers may just be stuck with their choices and because of prevailing valuations, are unable to sell securities.
How has the portfolio's composition impacted its performance in 2015 and what are the driving factors of that performance? Let's look at that in the next article.