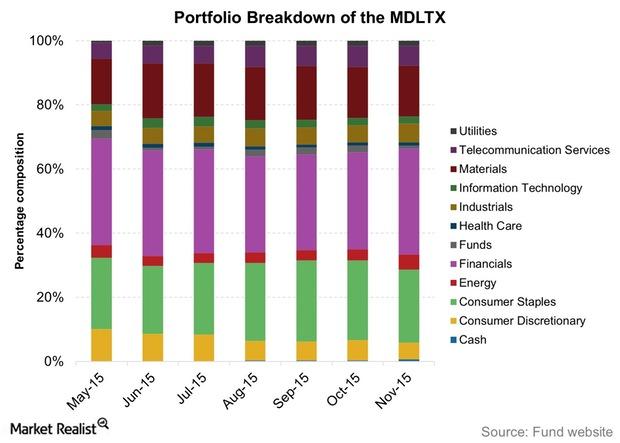 Portfolio Composition of MDLTX through November 2015
By David Ashworth

Dec. 28 2015, Published 2:58 p.m. ET
BlackRock Latin America Fund A
The BlackRock Latin America Fund A (MDLTX) seeks long-term growth of capital by investing "primarily in Latin American equity and debt securities."
The fund's management does not seek to spread the fund's portfolio across a large number of countries in Latin America. It adopts both top-down and bottom-up research approaches when constructing the fund's portfolio. The top-down approach lets the fund manager select potentially outperforming markets, while the bottom-up approach helps the manager select individual securities.
Article continues below advertisement
The fund's assets were invested across 61 holdings as of November 2015, and it was managing assets worth $160.1 million. As of its October portfolio, MDLTX's equity holdings included Banco Bradesco (BBDO), BRF (BRFS), Southern Copper (SCCO), Telefônica Brasil (VIV), and Petrobras (PBR), which formed a combined 12.6% of the fund's portfolio.
Historical portfolios
For this analysis, we'll be considering holdings as of October 2015, as that is the latest available sectoral breakdown. The holdings post-October reflect valuation-driven changes to the portfolio, not the actual holdings.
The fund is invested across all ten sectors. The financials and consumer staples sectors are MDLTX's top two invested sectors, forming a combined 54% of the fund's assets. The fund's management has bet on the materials sector, which is its third-largest sectoral holding. The sector forms 16% of the fund's assets. No other sector has an exposure in the double-digits.
Though financials stocks are the fund's single largest holding, exposure to these stocks has been reduced in the past year ended November 2015. Stocks from the consumer discretionary sector form less than half of what they did a year ago.
On the other hand, the fund's exposure to the materials, telecom services, and utilities sectors have been increased in the period. Telecom services are a little less than twice their size from one year ago.
Have these portfolio moves benefited the fund year-to-date in 2015? Which sectors have contributed to the fund's performance? Let's take a look in the next article.