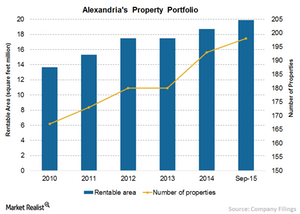 An Overview of Alexandria's Property Portfolio
By Peter Barnes

Updated
Unique properties
As mentioned in the previous article, Alexandria Real Estate Equities (ARE) mainly focuses on science and technology campuses in urban innovation clusters. The interiors of the company's properties are uniquely designed to fulfill the specific needs of science and technology customers, whereas the exteriors of the properties are similar to those of traditional office properties. Because of the unique design, these properties have long-term value and utility to science and technology clients.
The interiors of the properties include the following:
Article continues below advertisement
reinforced concrete flooring to clamp heavy equipment
higher ceiling heights to maneuver scientific instruments
higher roof loading capacity
laboratory benches for practical work
advanced environmental control technology for better research conditions
heavy-duty heating, ventilation, and air conditioning systems
high-quality electrical, gas, and plumbing infrastructure to support scientific research
Property portfolio
As of fiscal ended 2014, the company had 193 properties comprising a total rentable area of 18.7 million square feet of operating projects. In addition, the company had 12.8 million square feet in future ground-up development projects.
The company's total property portfolio has witnessed healthy growth during the past five years. The total rentable area of the company increased from 13.7 million square feet in 2010 to 18.7 million square feet in 2014. As of fiscal ended 2014, the company had a fee simple interest in all of its properties except 28, accounting for 15% of the total portfolio.
In the first nine months of 2015, the company acquired a number of properties, increasing its rentable area to 19.9 million square feet. The company also owned two land parcels in India.
Peer group
Other major office REIT players such as SL Green Realty (SLG), Boston Properties (BXP), and Kilroy Realty (KRC) mainly focus on office properties, though some are present in retail and residential properties as well. Alexandria makes up ~1.1% holdings of the SPDR Dow Jones REIT ETF (RWR). In the next part of this series, we'll discuss Alexandria's geographic coverage.