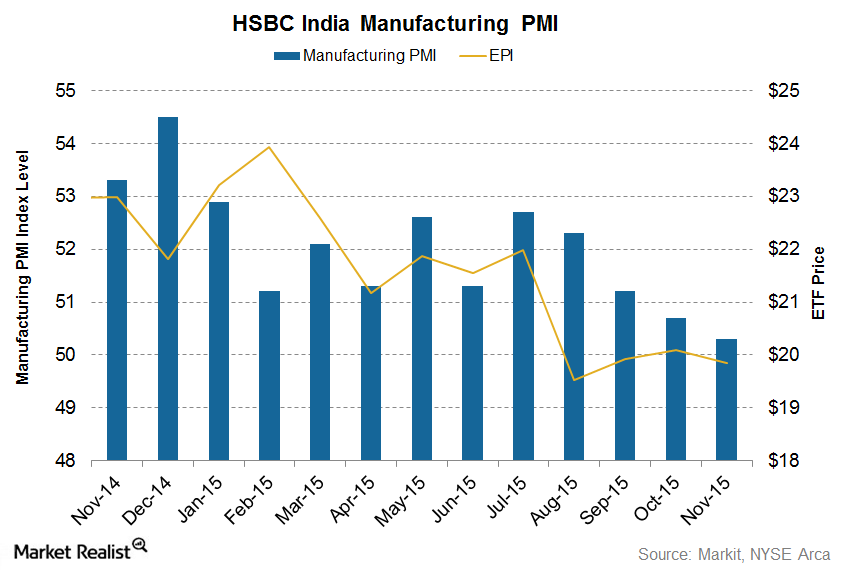 India's Manufacturing Continued to Decline in November
India manufacturing PMI fell to 50.3 in November
India accounts for about 2.5% of the world's GDP, and manufacturing activity accounts for ~17% of India's GDP. According to Markit, the Nikkei India manufacturing index declined by 0.4 points to 50.3 in November, compared to 50.7 in October 2015.
Although manufacturing was down, India's GDP rose to 7.4% in the second quarter. As a result, the Direxion Daily India Bull 3X ETF (INDL) and the WisdomTree India Earnings ETF (EPI) rose 1.6% and 0.25%, respectively, as on December 1.
Vedanta Limited (VEDL) and HDFC Bank Ltd. (HDB) increased by 4.8% and 3.0%, respectively. Tata Motors Limited (TTM) and Infosys Limited (INFY) fell by 2.2% and 0.72%, respectively, as of December 1.
Article continues below advertisement
Softer increases in new orders and output in November
Although both production and new orders rose in November, the rate of growth was slow. The consumer goods subsector performed the best. Consumer goods continued to shine with an increase in new orders and production levels. However, the operating conditions of intermediate goods companies deteriorated in November.
The growth of new work was lower due to declining domestic orders and increasing competitive pressure. However, new business from abroad increased slightly in November. New export orders rose for consumer and intermediate goods firms, and the capital goods category contracted. Although orders were muted, employment remained broadly unchanged in November and was slightly above the neutral mark.
Cost inflation accelerated, but remained below the long-term trend
Stocks of inventories, purchases, and finished goods declined in November. Input cost inflation accelerated to the strongest level in six months during November but remained below the long-term series average. Companies reported higher prices paid for metals, textiles, and food, and factory gate charges were subsequently raised.
Indian manufacturing activity is weakening. However, the Make in India initiative launched by Prime Minister Narendra Modi may help the Indian economy attract foreign and domestic companies to manufacture in India. The initiative could also help revive India's ailing manufacturing sector.
After reporting a strong GDP in the second quarter of 2015, India's manufacturing declined in November. In the final article in this series, let's look at China's manufacturing activity.