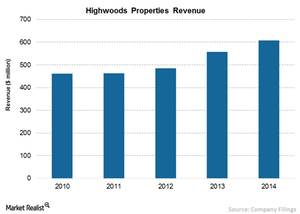 Highwoods Properties' Moderate Revenue Growth in Recent Years
Revenue streams
Highwoods Properties (HIW) generates revenue primarily through leasing office, industrial, and retail properties to tenants. The main factors affecting the company's rental revenues are average occupancy, prevailing rental rates, new developments placed in service, and acquisitions and dispositions of properties.
Article continues below advertisement
Moderate revenue growth
In the past five years, Highwoods Properties has reported moderate revenue growth. The company's revenue grew from $461.1 million in 2010 to $608.5 million in 2014. In the first nine months of 2015, revenue increased to $435.3 million, 5.9% over the same period in 2014.
The company prefers to have a diversified customer base. Customers accounting for more than 3% of the revenues are often reviewed by the company. This reduces the company's dependence on a single customer for revenue generation.
Rental revenue
As mentioned above, Highwoods Properties reported a total revenue of $608.5 million for fiscal 2014, up by 9.3% over 2013. The rise in rental revenue in 2014 was due to acquisitions and development properties placed in service and higher same-property revenues. Same-property rental revenues increased due to a rise in average rents and higher cost recovery. The rise in revenue was partly offset by lower termination fees and a decrease in average occupancy in 2014. The properties acquired in 2013 and 2014 are expected to contribute substantially to the company's revenue in 2015.
Peer group comparison
In comparison to its peer group, Highwoods Properties posted a moderate revenue growth. Alexandria Real Estate Equities (ARE) posted a higher revenue growth of 15.2% to $726.9 million in 2014, followed by Boston Properties (BXP) at 12.2% to $2.4 billion, and SL Green Realty (SLG) at 10.9% to $1.5 billion. Highwoods Properties makes up ~0.45% of the iShares Dow Jones US Real Estate ETF (IYR). In the next article, we'll look at Highwoods Properties' cost structure.