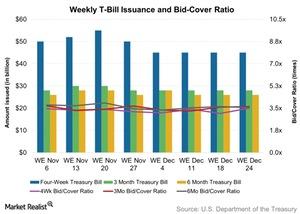 Fundamental Market Demand Fell for the 13-Week T-Bills Auction
By Lynn Noah

Updated
13-week Treasury bills auction
The U.S. Department of the Treasury auctioned 13-week Treasury bills, or T-bills, worth $28 billion on December 21. The amount on offer was same as the previous week's auction.
The overall auction demand, as represented by a bid-to-cover ratio, was higher by 1.4% in the week. The bid-to-cover ratio rose to 3.63x compared to 3.58x a week ago.
Mutual funds like the American Funds US Government Securities Fund – Class A (AMUSX) and the J Hancock Government Income Fund – Class A (JHGIX) help investors get exposure to three-month T-bills.
Article continues below advertisement
Yield analysis
T-bills don't pay a coupon. They're offered at a discount to face value. They're redeemable at par on maturity. The high discount rate for the December 21 auction came in at 0.25%. It was lower than 0.28% in the previous week.
Market demand fell
The market demand for the three-month T-bills fell sharply to 33.9% of the accepted bids last week—compared to 51.2% in the previous week.
The percentage of indirect bids fell from 36.4% to 20.6%. Direct bids also fell. These bids formed 14.8% of accepted bids in the previous week. They fell to 13.3%. Direct bids include domestic money managers—for example, State Street (STT) and BlackRock (BLK).
The share of primary dealer bids rose from 48.8% in the previous week to 66.1%. Primary dealers are a group of 22 broker-dealers authorized by the Fed. They're obligated to bid at US Treasury auctions and take up the excess supply. They include firms like Goldman Sachs (GS) and Citigroup (C). A rise in the percentage of primary dealer bids indicates weak fundamental market demand.