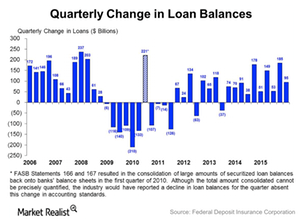 Why Asset Sensitivity Is Rising for US Banks
By Rebecca Keats

Updated
Asset sensitivity of banks has grown
The asset sensitivity of large-cap and mid-cap US banks (XLF) has been rising over the last few months as discussed in a report by Credit Suisse (CS). The report highlights how interest rate sensitivity has increased in the third quarter for US banks, which has resulted in an advantageous situation where the Federal Reserve (or Fed) starts hiking interest rates.
Asset sensitivity for US banks has been increasing on a quarter-over-quarter basis, primarily driven by a shift in variable rate loans, an increase in deposit inflows, and aging of interest rate swaps. Strong non-interest bearing deposit growth and growth in commercial and industrial loans have contributed substantially to the rise in sensitive assets in the third quarter. Further, it is important to understand whether this increased asset sensitivity is temporary or permanent. If the non-interest bearing deposit flows contributing to growth in asset sensitivity are temporary, it will reduce the benefits these banks might see from rising interest rates. Some banks have reported lower asset sensitivity in the third quarter driven by securities' portfolio additions, long-term debt issuance, and swap positioning adjustments.
Article continues below advertisement
During the quarter, Wells Fargo's (WFC) core loan portfolio grew by 9% while Citigroup's (C) core loan portfolio grew by 5% year-over-year. Bank of America (BAC) also recorded 10% higher average loans and J.P. Morgan's (JPM) loan portfolio grew by 4% as compared to the past quarter. Overall, financial institutions witnessed loans and lease growth of 1.1% in the third quarter, led by commercial and industrial loans growth of $58 billion.