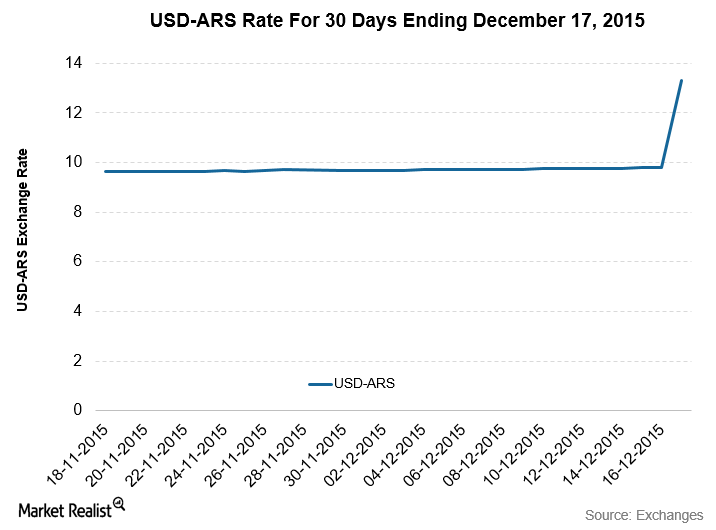 The Argentine Peso Tanks as Government Fulfils the Promise of Freefloat
By David Meyer

Nov. 20 2020, Updated 4:51 p.m. ET
Argentina peso loses more than one-third value
The US dollar and Argentine peso currency pair, which is inversely related to the Argentine peso, rose by 35.6% on December 17, 2015. The rise was a reaction to the nation's new president, Mauricio Macri, taking his first major move by making the currency a "free float."
The Argentine peso, which started the day at 9.81, went to an intra-day high of 13.63 before closing the day at 13.30 on December 17. The rise in the currency pair was partly compounded by the US Fed's decision to hike its federal funds rate by 0.25% on December 16, 2015.
Article continues below advertisement
Macri fulfills "free float" promise
Newly elected Argentine President Mauricio Macri fulfilled his campaign promise by leading the Argentinian peso into a new currency era. This is the first time in nearly 11 years that the currency was allowed price discovery.
Macri's move is intended to kickstart the Argentine economy, which has been on crisis alert. The move was also seen as a path to unlock IMF (International Monetary Fund) funds of around 15 billion, which had been cut off. The IMF had urged Argentina to do away with the pegging. But the focus will now turn to the risk of rising in inflation, which will likely be the major worry for the nation's central bank going forward.
Argentina's central bank officials were reported as stating on Thursday, December 17 that there was no intervention from them in the currency market. But the depreciating currency is expected to give a boost to the exporters.
The Argentine peso's impact on the market
ETFs related to Latin America were also showing signs of negative movement on December 17, 2015. The iShares MSCI Brazil Capped ETF (EWZ), for example, fell by 2.7% while the iShares Latin America 40 ETF (ILF) jumped by 1.2%.
Meanwhile, Argentine ADRs (American Depositary Receipts) were trading positively on December 17. Banking ADR BBVA Banco Frances SA (BFR) rose by 4.0% at the end of the day, and another banking ADR, Banco Macro (BMA) rose by 2.7% on the same day. Notably, Telecom Argentina Stet-France Telecom (TEO) rose by 4.1% on December 17.
Now let's head for Taiwan, whose central bank just cut rates, and see what happened with the Taiwanese dollar on December 17, 2015.