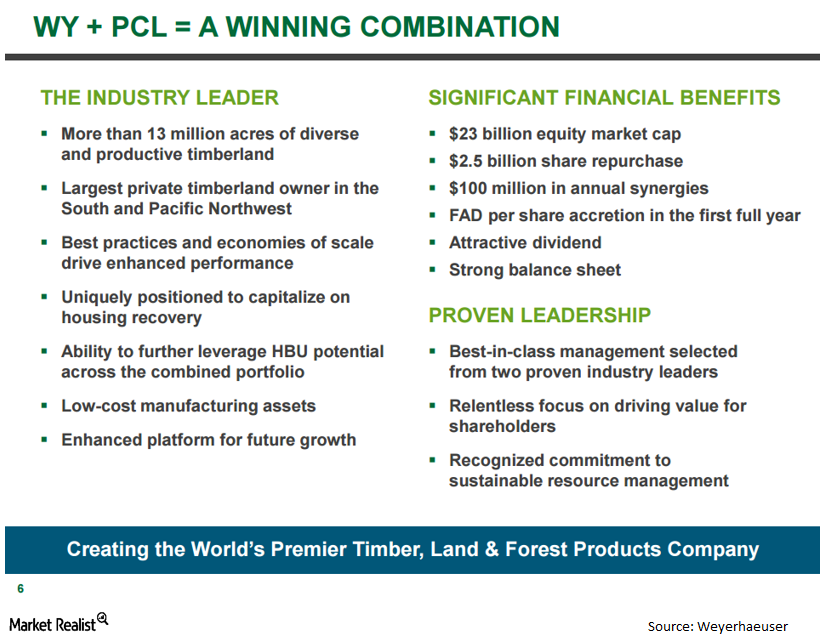 Will Arbitrageurs Set up the Plum Creek Timber-Weyerhaeuser Deal?
By Brent Nyitray, CFA, MBA

Nov. 24 2015, Updated 9:31 p.m. ET
Antitrust will be a risk to this deal
The Plum Creek Timber-Weyerhaeuser merger appears to have antitrust risk, and the companies don't have to make any divestitures that would result in a regulatory material adverse effect. Unfortunately, they don't specify what a regulatory material adverse effect would be in terms of acreage, revenues, or any tangible number.
The 1.4% spread is simply unappealing unless there is another buyer waiting in the wings. Arbitrageurs will have to wait to see if Plum Creek Timber (PCL) ran a process to sell the company. At least as far as timber REITs go, Weyerhaeuser (WY) is the only timber REIT big enough to buy Plum Creek Timber.
Article continues below advertisement
If the deal had no antitrust risk whatsoever, it would probably trade at around a 15x risk-to-reward ratio, which would mean a spread of about 50 cents and an annualized spread of 3.5%. Given the antitrust risk in the transaction, it probably should trade at a risk-to-reward ratio of about 5:1, which works out to a spread of $1.66 and an annualized spread of 9%.
At current levels (basically parity), arbitrageurs are probably going to take a pass on this transaction. Some may choose to put some on just to have a position in case it gets competitive, but it is hard to see people loading up the boat at these levels.
Other merger arbitrage resources