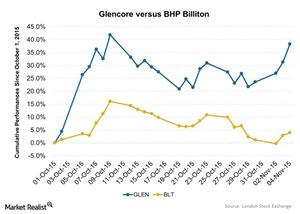 UK Services PMI, Draghi's Reassurance Lifted EWU by 0.06%
EWU gained 0.06%
The iShares MSCI United Kingdom ETF (EWU) rose by 0.06% on Wednesday, November 4, 2015. The Services PMI (Purchase Managers' Index) for the United Kingdom reported by Markit Economics came at 54.9, beating the consensus estimate of 54.5 for October 2015. The rise in the PMI above its average reading of 54.02 index points since 2007 signaled growth in the region, buoying investor sentiments on the day.
Mario Draghi, president of the European Central Bank, reaffirmed the ECB's plan to provide a fresh monetary stimulus in December to boost inflation in the region if needed. Draghi's comment lifted the European stock market.
Article continues below advertisement
Mining sector leads key stocks
Stocks at the top of the iShares MSCI United Kingdom ETF (EWU) on Wednesday, November 4, were Glencore (GLEN), Aggreko (AGK), and WM Morrison Supermarkets (MRW). These stocks gained 5.4%, 4.0%, and 3.9%, respectively, on the day.
The mining sector had a bright day on November 4, with all mining stocks ending with gains. The graph above compares the stock price performances of Glencore (GLEN) and BHP Billiton (BLT) since October 2015.
Glencore
Glencore (GLEN)'s trailing five-day return was 9.0%. The stock traded at $125.85, above its 50-day and 20-day moving averages, while its stock target price is $176.25, implying an upward potential. The trading volume of the stock rose from 61,691,432 on Tuesday, November 3, to 90,052,465 stocks on Wednesday, November 4.
GLEN has earned 18 "buy," 11 "hold," and two "sell" recommendations. Analysts at BMO Capital Markets rated the stock as "outperform" and raised its target price with an upside potential of 78.57% on November 4. Similarly, analysts at Canaccord Genuity and UBS (UBS) gave Glencore a "buy" rating and raised their respective target prices.
Other stocks to rise on the day were BT Group (BT) and Vodafone (VOD), as well as finance stocks like HSBC Holdings (HSBC), Prudential (PRU), and Royal Bank of Scotland (RBS). These stocks gained 0.8%, 0.9%, 2.8%, 1.3%, and 1.2%, respectively, on November 4.
The stocks at the bottom of EWU on the day were Persimmon (PSN), British Land (BLND), and Hammerson (HMSO). These stocks yielded -3.2%, -2.6%, and -2.0%, respectively, on November 4.
Please read our series How Are Miners Responding to Falling Copper Prices? for more information on the basic material sector.