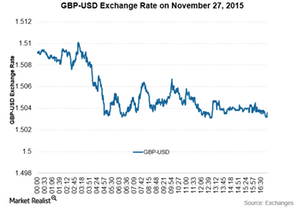 Pound Moves On Third Quarter GDP Estimates
Pound trades lower on slower growth numbers
The pound sterling ended on a lower note versus the US dollar on November 27, 2015, as GDP growth in the third quarter slowed in line with expectations. The pound has been trading lower against the US dollar as the FOMC's (Federal Open Market Committee) meeting approaches in December, along with an expected decision to hike the benchmark rates. The pound also showed weakness against the euro even as the ECB's (European Central Bank) monetary policy on December 3, 2015, is expected to expand the stimulus program.
Article continues below advertisement
GDP fails to impress
The third quarter GDP growth for the United Kingdom released at 0.5% on a QoQ (quarter-over-quarter) basis in line with expectations and below the previous quarterly release of 0.7% growth. On a YoY (year-over-year) basis, GDP growth eased to 2.3%, in line with forecasts and below last quarter's release of 2.4%. Dismal trade numbers internationally put pressure on the United Kingdom's GDP growth, while household spending rose. However, business investment grew better than previous figures, rising by 6.6% on an annual basis and 2.2% on a quarterly basis in the third quarter of 2015.
Impact on the market
After the UK GDP release, the iShares MSCI United Kingdom ETF (EWU) gained 0.06% in the market at day's end on November 27, 2015. The First Trust United Kingdom AlphaDEX (FKU) also finished the day 0.17% higher.
Banking ADRs (American depositary receipts) were trading on a mixed note. HSBC (HSBC) fell 0.1% while Barclays (BCS) rose by 0.6% after the GDP estimate was released.
The ADR ARM Holdings (ARMH) reacted positively to end 1% higher.