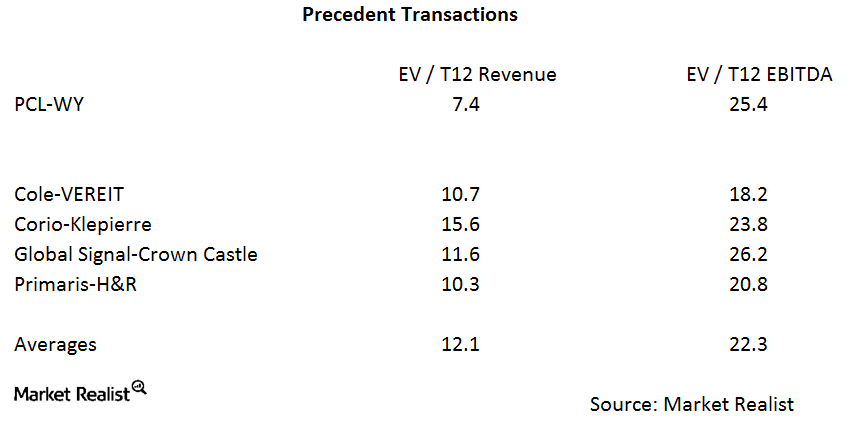 Could the Plum Creek Timber-Weyerhaeuser Merger Get Competitive?
By Brent Nyitray, CFA, MBA

Nov. 20 2020, Updated 4:29 p.m. ET
Competitive deals can make your quarter
Competitive deals can make your quarter if you're a merger arbitrage professional. If you get two companies bidding against each other, a 1% gross spread can easily become a 10% gross spread by the time everything is said and done. We saw that happen in the Salix Pharmaceuticals deal.
Article continues below advertisement
Could a competitor break up the Plum Creek Timber-Weyerhaeuser merger?
We don't know if Plum Creek Timber (PCL) ran a process to sell the company. Companies typically refer to the sale process as "examining strategic alternatives." Usually you don't get any definitive answers until the preliminary proxy statement comes out. As part of the preliminary proxy statement, there's always a section regarding the background to the merger. That's where you find out if the seller ran a process.
If the seller did run a process, then it is unlikely another buyer will emerge. Note that since this deal appears to have some antitrust issues, a potential buyer may prefer to wait and see how the regulatory process plays out before making a move. Another buyer could potentially buy assets on the cheap if Weyerhaeuser (WY) is forced to divest acreage in order to gain regulatory approval.
Article continues below advertisement
Deal comparisons
Arbitrageurs often compare the price the acquirer is paying to the prices of other deals in the same industry. This is always more art than science, since no two companies are alike and interest rate environments change. The best comparisons for this transaction include the following deals:
Cole-VEREIT
Corio-Klepierre
Global Signal-Crown Castle
Primaris-H&R
There simply are not any mergers between publicly traded timber REITs to look at, so we have to look at general REIT transactions, which may or may not be relevant.
In this transaction, Weyerhaeuser is paying about 7.4x trailing-12-month revenues and 25.4x trailing-12-month EBITDA (earnings before interest, tax, depreciation, and amortization). These multiples are around the averages in the other transactions, which work out to be about 12.1x trailing-12-month revenues and 22.3x trailing-12-month EBITDA.
Given the companies are the largest in the timber REIT sector, there really isn't a natural buyer that could extract any synergies. Financial buyers generally do not compete with strategic buyers, so that makes a competing private equity buyer unlikely.
Other merger arbitrage resources