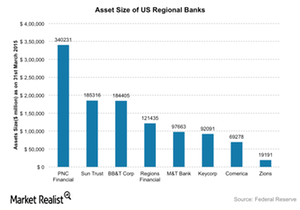 Midsize Banks Need a Breather from Excessive Regulations
Dodd-Frank Act has negatively impacted smaller banks
The Dodd-Frank Act was primarily put into place to prevent large banks from negatively impacting the entire financial system, as was the case in 2009. However, the Act's implementation has negatively affected smaller banks. These banks have to incur huge compliance-related expenses to comply with the Dodd-Frank Act.
Recently, Janet Yellen, chair of the Federal Reserve, hinted at regulatory changes for regional banks with $50 billion in assets. Regional banks (KRE) such as Zions Bancorporation (ZION), Regions Financial (RF), BB&T (BBT), and M&T Bank (MTB) are among 30 banks that are subject to strict rules and are pushing for exemptions from some of these rules under the law.
Article continues below advertisement
Banks are reconsidering their product offerings
Increased regulatory burdens stemming from the Dodd-Frank Act have led these banks to reconsider their product and service offerings. The Act's regulatory approach does not make sense to the non-standardized lending smaller banks specialize in.
Most regional banks are of the view that their compliance costs have gone up since these regulations came into existence. For smaller banks, it's harder to absorb these costs as compared to larger banks. As the result of the legislation's mortgage rules, many community banks are getting out of the home-loan business altogether or are drastically cutting back.
These banks have responded to the increased regulatory burdens by shrinking the products and services they offer, particularly in the mortgage space.