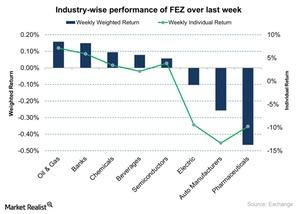 Macro Indicators Suggest Mixed Signals for the Eurozone
By Sarah Sands

Nov. 12 2015, Updated 3:07 p.m. ET
Gradual fall in FEZ
As of November 4, 2015, most global markets showed a declining trend and traded in a narrow trading range. This market fall occurred after the announcement by Janet Yellen, the Federal Reserve chair, regarding a possible interest rate hike during the Fed's December meeting.
The SPDR Euro Stoxx 50 ETF (FEZ) has been gradually falling since November 3, 2015. From November 3–10, the fund declined by nearly 2%. On the indicator front, the Eurozone manufacturing PMI (purchasing managers' index) looked good, standing at 52.3 for October compared to 52 in September. However, the Services PMI missed expectations, standing at 54.1 for October compared to 54.2 in September.
As of November 10, FEZ, a Eurozone equity-tracking ETF, had fallen in the last five trading sessions. On November 10, it closed at $35.91, a 0.42% fall from the previous trading session.
Article continues below advertisement
Oil and gas industry outperformed in FEZ
Over the week ended November 10, the top five industries that outperformed the fund were:
oil and gas
banking
chemicals
beverages
semiconductors
The bottom three industries that underperformed the fund were electric, auto manufacturers, and pharmaceuticals. Auto manufacturers provided the highest negative individual return of 13%, but they had a weighted return of -0.25%. The weighted return is calculated by multiplying the weight of the industry in the fund with the individual return of the industry.
Key stocks that drove the FEZ performance
During the week, the top three performing stocks were Total SA (TOT), BNP Paribas, and Société Generale. The factors behind the respective stock performances follow:
Total SA provided a weighted return of 0.13% as it announced that it plans to engage in worldwide oil and gas production. It plans to expand its multinational specialty chemical business.
BNP Paribas contributed a weighted return of 0.08% as the Financial Stability Board came out with its new global bank rules, which eased the norms for raising debt to meet capital requirements. The borrowing cost to meet cash reserve requirements, which stood at 3.5% earlier, has been reduced to 2.5% according to the new guidance.
Société Generale also reacted positively to the easing of norms and contributed a weighted return of 0.07% over the week.
FEZ invests in large capitalization stocks, including the following companies with their portfolio weights:
In the next part, we'll analyze how FEZ and its top performers did with respect to their moving averages.