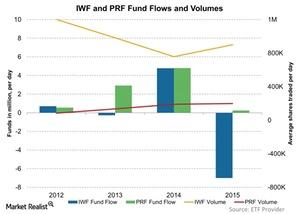 IWF had a Huge Outflow of Funds in 2015
By Ivan Kading

Dec. 6 2015, Updated 4:05 p.m. ET
IWF and PRF
The iShares Russell 1000 Growth ETF (IWF) is based on the Russell 1000 Growth Index. The index provider uses a growth investing approach aimed at beating the traditional market return. IWF currently manages a large portfolio of 646 holdings. A similar smart beta fund that manages a vast portfolio of holdings is the PowerShares FTSE RAFI US 1000 Portfolio (PRF). It's based on the FTSE RAFI US 1000 Index. The stock selection methodology of PRF's index provider is based on a multifactor model of book value, cash flow, sales, and dividends. PRF has 1000 stocks in its portfolio.
Article continues below advertisement
Massive fall in fund inflow, rise in volume
The above chart compares the historical fund inflow and the average volume of shares traded per day of IWF with PRF. Apparently, after witnessing healthy growth in fund inflow, IWF suffered a major downfall in its fund inflow in 2015. Rises in the inflow of funds are beneficial to a particular ETF as this raises the amount of cash in the hand of the fund manager. PRF too was unsuccessful in raising its inflow of fund in 2015. The volume trend, on the contrary, had witnessed a positive trend in its growth, signalling a rise in IWF's demand.
Portfolio comparison
The top holdings of IWF are Apple (AAPL), Verizon (VZ), and Coca-Cola (KO). IWF manages a broad portfolio of more than 600 stocks. PRF, on the other hand, has JPMorgan Chase (JPM), Bank of America (BAC), and Wells Fargo (WFC) among its top holdings. Both smart beta ETFs manage a large number of holdings. The top ten holdings of IWF represent 23.8% of its total portfolio, whereas PRF's top ten holdings represent 18.5% of its portfolio.
The next part presents the a study of IWF's holdings in detail.