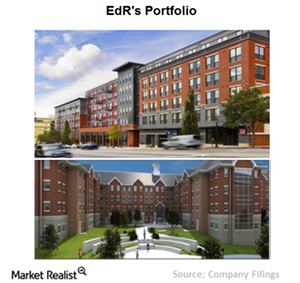 Investing in Education Realty Trust: A Must-Know Company Overview
Education Realty Trust's history
The origin of Education Realty Trust (EDR) goes back to Allen & O'Hara's student housing business, which was established in 1952. The company has over 40 years of experience as an owner, manager, and developer of student housing properties in the country. Education Realty Trust (or EdR) is headquartered in Memphis, Tennessee. The company completed its IPO in 2005 and became the second publicly traded student housing REIT (real estate investment trust) on the New York Stock Exchange after American Campus Communities (ACC). The company is a part of the S&P 600 Index.
Article continues below advertisement
Business profile
EdR (EDR) is a self-managed and self-administered equity REIT. The main objective of the company is to develop, acquire, own, and manage student housing properties near the university campuses mainly for its own account. In addition, EdR also provides third-party development consulting services to universities and other third parties on student housing development projects.
Business dynamics
The company normally leases its owned properties for a period of 12 months. However, in some cases the company considers nine-month or shorter leases. Because of the short-term nature of leases, the company may receive lower cash flows at properties with short-term leases. In addition, all the company's properties are required to re-lease each year, exposing the company to increased leasing risk.
Most of the leases at the company's student housing properties begin in mid-August and end in July of each year. The higher occupancy levels are therefore highly dependent on the effectiveness of the company's marketing initiatives during this leasing period.
Other apartment REIT like Equity Residential (EQR), Essex Property Trust (ESS), and UDR (UDR) are mainly involved in resident leases rather than student leases. The iShares Core S&P Small-Cap ETF (IJR) invests 0.31% of its portfolio in EdR.
Series content
In this series, we'll be covering the following topics:
Investing in Education Realty Trust: A must-know company overview
A look at EdR's business segments
How does industry competition affect EdR?
EdR's property portfolio has witnessed healthy growth
EdR has a strong presence in the South Central region
EdR's strategy to enhance shareholder returns
Property acquisitions and development add value to EdR's portfolio
EdR's occupancy level is one of the lowest in the industry
EdR reported healthy revenue growth in recent years
EdR's EBITDA margin is lower than industry average
Why EdR has been reporting higher funds from operations
Must-Know: EdR's FFO payout ratio is highest in among peers
EdR has lower leverage than industry average
EdR's price-to-FFO multiple is higher than industry average
Why EdR trades at average EV-EBITDA multiple?
Investing in EdR through ETFs