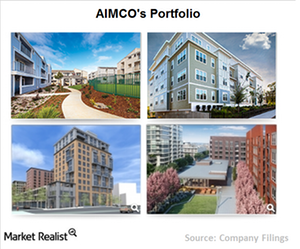 Investing in Apartment Investment & Management Company
By Peter Barnes

Updated
A peek into AIMCO's history
Headquartered in Denver, Colorado, Apartment Investment & Management Company (or AIMCO) (AIV) is a self-administered and self-managed REIT. The company was incorporated in January 1994 and listed on the NYSE. AIMCO is part of the S&P 500 Index and is one of the largest owners and operators of apartment communities in the United States.
Article continues below advertisement
Business interest
AIMCO's (AIV) business is focused on the ownership, management, and redevelopment of apartment communities in the largest coastal and job growth markets of the United States. As of December 31, 2014, AIMCO's real estate portfolio consisted of 203 apartment communities with 52,336 apartment homes held through its subsidiaries, including the operating partnership, and consolidated joint ventures.
Competitors
AIMCO (AIV) is the seventh largest apartment REIT in the United States with a market capitalization of $5.8 billion. The company competes for rental properties with a number of other apartment REITs in the United States.
Competition also comes from other forms of rental properties and single-family housing that provide housing alternatives to potential residents of multi-family properties. Apartment REITs also compete on the residents' decision of owning a home or renting an apartment. When home prices are high, renting becomes more attractive, and vice versa.
Article continues below advertisement
Major competitors of AIMCO (AIV) in the apartment REIT space include Chicago-based Equity Residential (EQR), California-based Essex Property Trust (ESS), Virginia-based AvalonBay Communities (AVB), Colorado-based UDR (UDR), Texas-based Camden Property Trust (CPT), and Tennessee-based Mid-America Apartment Communities (MAA). The SPDR Dow Jones REIT ETF (RWR) invests 1.0% of its portfolio in AIMCO (AIV).
Series content
In this series, we'll cover the following topics:
Investing in Apartment Investment & Management Company

A Closer Look into AIMCO's Apartment Business

An Overview of AIMCO's Geographic Coverage

A Look at AIMCO's Diversified Renter Base

How Property Redevelopment Adds Value to AIMCO's Portfolio

How AIMCO Plans to Create Value through Strategic Initiatives

Why AIMCO Has Reported Subdued Revenue Growth in Recent Years

AIMCO's Improving EBITDA Margin Is Still Below Industry Average

AIMCO Reported Highest Funds from Operations in 2014

AIMCO Offers Steady Dividends to Shareholders

Why AIMCO Has Higher Leverage Despite Recent Debt Reduction

Why AIMCO Trades at a Lower Price-to-FFO Multiple Than Its Peers

What Does AIMCO's Lower EV-EBITDA Multiple Mean to Investors?

How Can You Invest in AIMCO through ETFs?