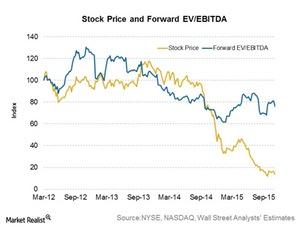 Interpreting Pacific Drilling's EV-to-EBITDA Multiple in November 2015
By Sue Goodridge

Updated
Why EV-to-EBITDA?
Offshore drilling (XLE) (OIH) companies are best valued and compared using an EV-to-EBITDA (enterprise value-to-earnings before interest, taxes, depreciation, and amortization) multiple. A company's forward EV-to-EBITDA multiple reflects what investors are willing to pay for the next four quarters of estimated EBITDA.
For the offshore drilling industry, we believe that the EV-to-EBITDA multiple reflects the perceived riskiness of investing in offshore drilling companies as well as investors' expectations for industry outlook.
Article continues below advertisement
Pacific Drilling's EV-to-EBITDA multiple
Following its 3Q15 results, Pacific Drilling (PACD) was trading at an EV-to-EBITDA multiple of 6.67x compared to its past four-year average of 8.35x. Pacific Drilling's multiple over the past four years reached a high of 11.44x in November 2012 and a low of 5.3x in January 2015.
Wall Street analyst estimates for Pacific Drilling's 2015 and 2016 EBITDA are $597 million and $407 million, respectively. In the previous part of this series, we discussed how these estimates factor into the assumption that a drilling company may secure new contracts. If Pacific Drilling fails to secure new contracts, analyst EBITDA estimates will be revised downward, which would have a negative impact on the company's stock prices.
Comparing valuation with peers
Pacific Drilling's current valuation multiple of 6.67x is similar to its peers Transocean (RIG) and Seadrill (SDRL), who were trading at valuation multiples of 6.6x and 6.78, respectively, as of November 13, 2015. Other offshore drillers were trading at the following valuation multiples as of the same date:
Compared to most of these companies, Pacific Drilling was valued higher based on its EBITDA as of November 13. This is probably due to the fact that the company operates only high-specification drillships, which generally have higher EBITDA margins.