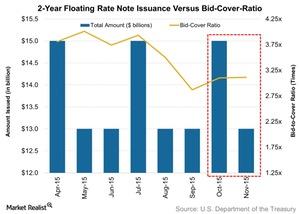 High Discount Margin: Highest Ever for 2-Year Floating Rate Notes
By Lynn Noah

Nov. 20 2020, Updated 2:21 p.m. ET
Two-year floating rate notes
The US Department of the Treasury introduced two-year FRNs (floating rate notes) in January 2014. An FRN is a debt security. Its interest payment varies. The reference for its rate is a benchmark like LIBOR or the three-month Treasury yield. The security's interest payments rise and fall depending on prevailing market rates. As a result, FRNs have near zero interest rate risk.
Mutual funds like the HSBC U.S. Treasury Money Market Fund (HTYXX) and the U.S. Government Securities Ultra-Short Bond Fund (UGSDX) provide exposure to Treasury FRNs.
Article continues below advertisement
Key takeaways
The auction was held on November 24, 2015.
$13 billion worth of FRNs were auctioned in November—$2 billion lower than the October auction.
The bid-to-cover ratio rose marginally by 0.3% to 3.11x—compared to 3.10x at October's auction.
The high discount margin rose to 0.22%—five basis points higher than October's auction. It was the highest ever.
Market demand fell
The market demand fell to 47.6% of the competitive accepted bids in November—compared to 51.7% at October's auction.
The percentage share of direct bidders rose from 2.0% in October to 3.2% in the November auction. Direct bids include bids from domestic money managers like State Street (STT) and AIG (AIG). Indirect bids include bids made by foreign central banks. They indicate overseas demand. They fell and accounted for 44.4% of the auction in November—compared to 50.0% in October.
Due to a fall in the market demand, the primary dealer takedown rose to 52.4%—compared to 48.4% at the October auction. Primary dealers act as market makers. They take up the excess supply of auctioned securities. They include Morgan Stanley (MS), Citigroup (C) and JPMorgan Chase (JPM).
Floaters
Floaters see their interest rate payments rise in a rising interest rate environment. This is in contrast to regular Treasuries. They lose value. An increase in the rates would impact the overall bond market—including mutual funds investing in Treasuries and corporate bonds.
In the rest of this series, we'll analyze the Treasury bills, or T-bills, auction activity last week.