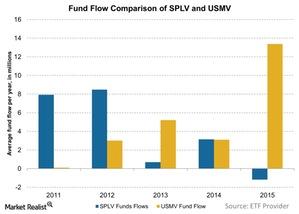 A Fund Flow Analysis of SPLV
By Ivan Kading

Nov. 10 2015, Updated 8:08 a.m. ET
SPLV and USMV
The PowerShares S&P 500 Low Volatility ETF (SPLV), a smart beta fund by PowerShares, seeks to mimic the investment results of the S&P 500 Low Volatility Index. The index provider selects stocks on the basis of the volatility each stock exhibits. As implied by the name, SPLV selects stocks that exhibit relatively low volatility in the S&P 500 universe.
The stock with the lowest volatility is ranked number one, and so on. SPLV invests in these stocks, ranked from one to 100, maintaining a portfolio of 100 equity stocks at all times.
Article continues below advertisement
The iShares MSCI USA Minimum Volatility ETF (USMV), a similar ETF, seeks to track the performance results of the MSCI USA Minimum Volatility Index. The index selects only those stocks that are issued in the United States and, in the aggregate, have lower volatility characteristics than the broader US equity market.
Fall in growth
SPLV had an average inflow of funds during its initial year. The fund was launched on May 5, 2011. However, due to the strong market performance of USMV, growth in funds for SPLV has fallen considerably. For the current year, share redemptions have exceeded share purchases, which has resulted in negative fund flow, or an outflow, for SPLV.
Since asset performances are hugely driven by investor psychology, a fund flow analysis helps to give a clearer picture. Share purchases, or inflows, create effective demand for an asset, and share redemptions, or outflows, create a negative demand.
The year-to-date (or YTD) return for SPLV is 2.8%, whereas USMV has given a YTD return of 4.7%, clearly outperforming SPLV.
Portfolio comparison
USMV currently manages a total portfolio of $6.6 billion distributed majorly in the healthcare, financials, and information technology sectors. USMV's top holdings include stocks such as McDonald's (MCD), AT&T (T), and Public Storage REIT (PSA).
SPLV's top holdings include stocks such as Plum Creek Timber (PCL), Paychex (PAYX), and PepsiCo (PEP).
In the next part the series, we'll study SPLV's holdings and the reasons behind the ETF's low performance.