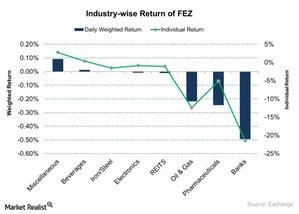 Commodities and Oil Prices Tumble as FEZ Falls 1.3%
By Sarah Sands

Nov. 13 2015, Published 11:57 a.m. ET
FEZ fell 1.3% on November 12
On November 12, most commodities and crude oil prices fell due to massive sell-offs. Investors are exiting their positions in the equity and commodity market to take the benefit of higher yields in bonds as the Federal Reserve's possible rate hike in December draws closer.
The above graph shows FEZ's performance, according to industry on November 12. Crude oil inventory rose last week. This pushed oil prices to a two-and-a-half month low. Oil was trading below $42 a barrel on November 12. Most precious metals like gold and silver were at their respective multiyear lows. These uncertainties made the markets jittery.
These global events also dragged the SPDR Euro Stoxx 50 ETF (FEZ), as it fell 1.3% from the previous day and closed at $ 35.6. The FEZ ETF is an important gauge of the European equity market.
Article continues below advertisement
Banking industry underperformed FEZ
The top three industries that contributed to the FEZ ETF's performance on November 12 were miscellaneous manufacturing, beverages, and iron and steel. The bottom five industries that underperformed the fund were banks, pharmaceuticals, oil and gas, REITs, and electronics.
The miscellaneous manufacturing industry provided the highest weighted return of 0.09%, whereas the banking industry provided the highest negative weighted return of -0.49% as well as an individual return of -21%. These performances dragged the fund down, and it fell nearly 1.3% in a single day.
The weighted return is calculated by multiplying the weight of the industry in the fund with the individual return of the industry.
Key stocks that drove FEZ's performance
Out of the 50 constituents of the fund, only three stocks gave positive returns on November 12. Those stocks are Siemens (SIEGY), Muenchener Rueckver, and Anheuser Busch (BUD). The reasons behind the respective stock performances were as follows:
Siemens provided a weighted return of 0.09% as it received the 5th Annual Global Supplier award for creating value by reducing costs and improving production efficiencies
Muenchener Rueckver contributed a weighted return of 0.013%
Anheuser Busch contributed a weighted return of 0.01%. The company announced that it will buy SABMiller for 69.8 billion British pounds
Banking stocks Banco Santander (SAN) and Deutsche Bank (DB) provided the individual returns of -3.6% and -2.2%, respectively. In the oil and gas industry, Total (TOT) yielded -2.4%.
In the next part of the article, we'll analyze how these stocks and the ETF performed with respect to their moving averages and Relative Strength Index.