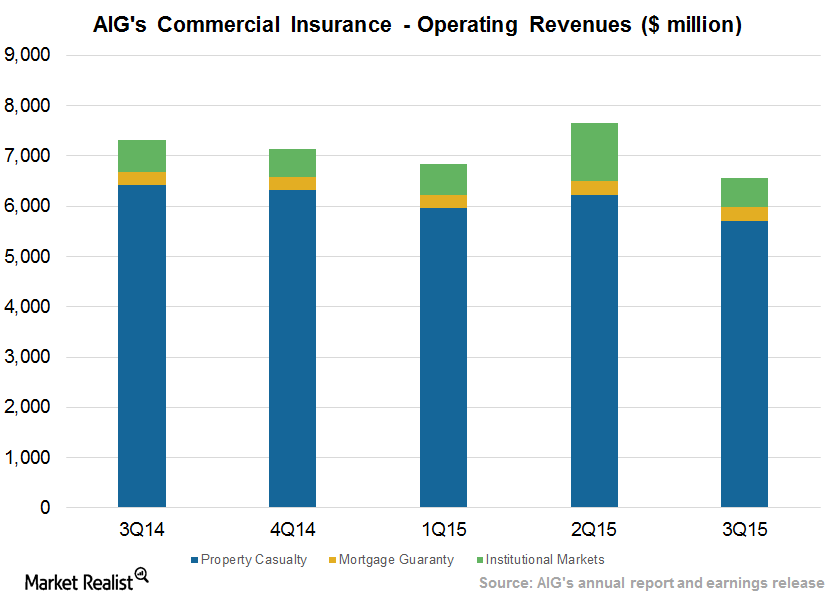 AIG's Commercial Insurance Was Impacted by China's Business
By Robert Karr

Nov. 30 2015, Updated 1:06 p.m. ET
Commercial insurance
American International Group (AIG) reported pre-tax operating income of $815 million for its commercial insurance business in 3Q15, a fall of 34% from the prior year's quarter.
The company saw its operations fall primarily due to lower investment income and a fall in the fair value of PICC's (People's Insurance Company of China) P&C (property and casualty) holdings.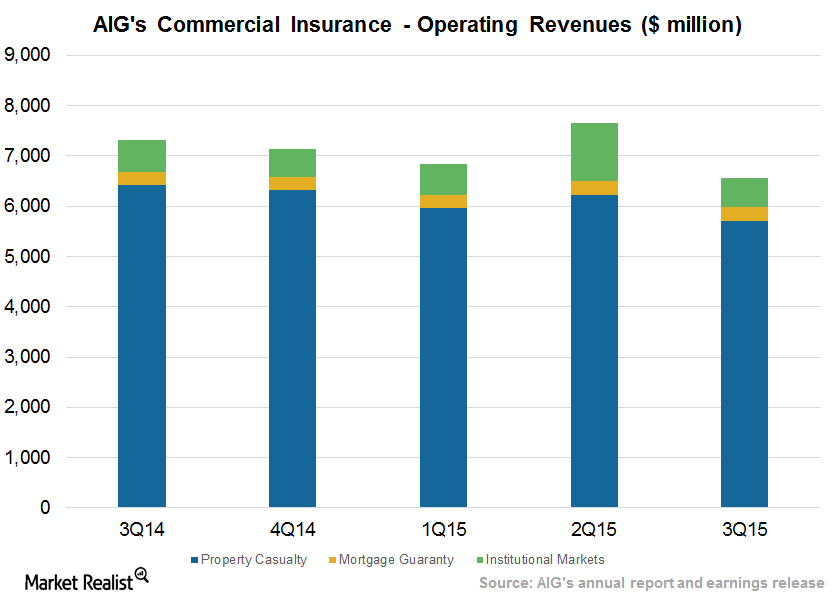 Article continues below advertisement
Property and casualty
AIG reported a 40% fall in the pre-tax operating income of its P&C holdings due to lower underwriting income and investment income. Its combined ratio rose 0.6 points to 102.7 in 3Q15, reflecting operating losses. Its loss ratio fell 1.0 points to 73.2, primarily due to higher current accident year losses in healthcare.
The fall was also due to US commercial automobile liability, higher attritional losses, and severe losses in property holdings, which were partially offset by an improvement in specialty holdings.
Combined ratio is calculated as the total underwriting expenses of a P&C insurer as a percentage of premiums received. A combined ratio of below 100% implies an underwriting profit, and a ratio of above 100% implies a loss.
Mortgage guaranty
AIG's mortgage guaranty reported a 20% rise in pre-tax operating income due to higher underwriting income, partially offset by a fall in investment income. New business written during 3Q15 had an average FICO score of 752 and an average loan-to-value ratio of 92%. Net premiums written in the division rose 2% to $232 million compared with 3Q14.
Institutional markets
Institutional markets' pre-tax operating income fell to $84 million in 3Q15, compared with $153 million in 3Q14. This was mainly due to lower net investment income driven by the negative performances of alternative investments in hedge funds. It was also due to a rise in policyholder benefits resulting from a large claim in 3Q15.
AIG grew its book value per share by ~13% during the past year. Compared to this, per-share book value growth was ~6% for ACE (ACE) and Allstate (ALL), and it was ~8% for Chubb (CB) in the same period.
Investors can gain broad exposure to insurance companies by investing in financial sector ETFs such as the Vanguard Dividend Appreciation ETF (VIG).