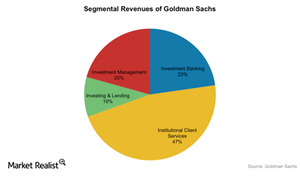 Understanding Goldman Sachs's Segmental Earnings
By Rebecca Keats

Updated
About the segments
In this part of the series, we'll analyze Goldman Sachs's (GS) segments and their respective performances. Goldman Sachs operates under the following segments:
Investment Banking
Institutional Client Services
Investing and Lending
Investment Management
Goldman Sachs ranked first in worldwide announced and completed mergers and acquisitions so far in 2015, and also ranked first in worldwide equity and equity-related offerings and common stock offerings year-to-date (YTD).
Article continues below advertisement
Earnings review
The Investment Banking segment of the company generated revenues of $5.5 billion YTD, its highest for nine months since 2007. Meanwhile, the Investment Management segment earned revenues of $4.7 billion, a record for nine months.
Revenues in the company's financial advisory business rose by 36% compared to last year, to $809 million, due to a significant rise in mergers and acquisitions activity. Thus, overall revenues of the Investment Banking segment rose by 6% compared to 3Q14.
However, the Institutional Client Services segment suffered as lower trading revenues hit earnings in the fixed income, currency, and client execution business. Net revenues from this business were 33% lower than last year as global weakness and low commodity prices kept investors away from these markets. Equity trading was a savior as revenues from this business increased by 9% to offset some of the losses.
Goldman's Investing and Lending business, which manages the company's own investments, also took a major hit this quarter, posting revenue of $670 million, down 60% from a year ago. The company said its investments "were negatively impacted by a significant decrease in global equity prices."
Goldman Sachs's Investment Management segment provides investment and wealth advisory services. This segment generated revenues of $1.42 billion for the third quarter, 3% lower than the same period last year.
Major US banks' (VFH) third-quarter earnings were severely hit by a slump in trading in the backdrop of global turbulence. Earnings of JPMorgan Chase (JPM) and Bank of America (BAC) missed estimates, while Wells Fargo (WFC) and Citigroup (C) slightly beat estimates due to their ability to manage costs.
The next part of this series will delve deeper into the effects of the slowdown in trading revenues on Goldman Sachs's earnings.