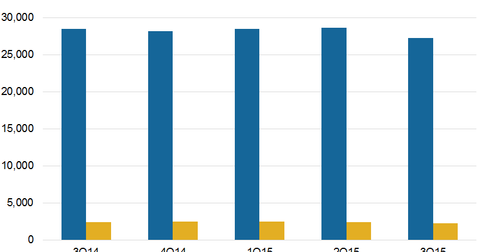 State Street Assets Under Management and Servicing Fall
By Robert Karr

Oct. 27 2015, Updated 8:08 a.m. ET
Assets under custody and administration
State Street (STT) assets under custody and administration fell by 4.2% to $27.3 trillion in 3Q15 as compared to $28.5 trillion in the prior year's quarter. The assets fell by 4.8% in comparison to the previous quarter. However, the company added $141 billion of new servicing commitments during the quarter across all sectors and geographies.
New assets to be installed in the upcoming quarter totaled $191 billion as of September 30, 2015. The major fall in servicing of assets was witnessed in insurance and other products followed by pension products and mutual funds. Product category–wise, the equities saw a fall of 8.9% in the assets under service, whereas fixed income assets increased by 1.8% on year-over-year basis.
State Street saw major fall of 7.1% in assets under servicing in the Europe, Middle East, and Africa (or EMEA) region. The company services 75% of its total assets for the United States, 20% for Europe, and the remaining for the Asia-Pacific region.
Article continues below advertisement
Assets under management
State Street also engages in the management of assets for its institutional as well as retail clients. The company's assets under management fell by 9% to $2.2 trillion as of September 30, 2015, as compared to $2.4 trillion as of September 30, 2014. In comparison to the previous quarter, assets fell by 7%.
The outflows were driven by net outflows of $42 billion from institutional mandates, partially offset by $10 billion in inflows to ETFs. The SPDR DoubleLine Total Return Tactical ETF, which is an active equity income ETF launched in partnership with DoubleLine, has gained more business in the third quarter. The fund has attracted $1.2 billion in net flows post-launch and now ranks as the most successful ETF launched in the United States in 2015.
State Street also launched another 13 new ETFs in the third quarter, bringing year-to-date new launches to 22.
State Street assets under management totaled $2.2 trillion. Let's compare this to revenues for State Street's peers:
JPMorgan Chase (JPM): $1.7 trillion
Bank of New York Mellon (BK): $1.7 billion
BlackRock (BLK): $4.5 trillion
Together, these companies form 1.7% of the SPDR S&P 500 ETF (SPY).