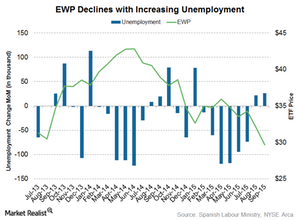 Services Lead the Jump in Spain's September Unemployment Data
Spain's unemployment rises by 26,087 in September
Spain is one of the fastest-growing regions in the Eurozone. However, an increasing unemployment rate has become the biggest concern for policymakers in Spain. Spain's unemployment rose by 26,087 in September, compared with an increase of 21,679 in August 2015.
This is the highest increase since February 2015 and is well above the consensus estimate of 21,100. Spain's 22.3% unemployment rate is one of the highest in the Eurozone.
Article continues below advertisement
EWP declines with increasing unemployment
Over the past year, the iShares MSCI Spain Capped ETF (EWP) was down 20.9% as of October 2. Banco Santander (SAN) fell by 42.2%, Telefónica (TEF) fell by 21.0%, Banco Bilbao Vizcaya Argentaria (BBVA) fell by 28.6%, and Grifols (GRFS) fell 7.9% over the same period.
Spain's unemployment data report is released monthly by the National Statistics Bureau. In September, the services sector increased by 1.62%, the largest increase of all the country's sectors. Unemployment in the agriculture and fisheries sector fell by 6.41%, and the construction sector's unemployment fell by 2.04%. The full-time permanent contracts increased nearly 16% in the first nine months of the year.
According to Spain's Secretary of State for Employment, Juan Pablo Risk, "Data from September show that the recovery of the Spanish labor market is structural and not cyclical and maintains its strength." Risk also noted, "New contracts registered a strong growth rate … particularly among full-time indefinite."
With an election later this year, improving job prospects needs to be the prime concern of the ruling government in Spain.
Along with Spain, most other Eurozone countries are struggling with poor economic growth and low inflation. Eurozone producer price figures provide crucial details about the price levels in the economy, which we'll examine in the next article.