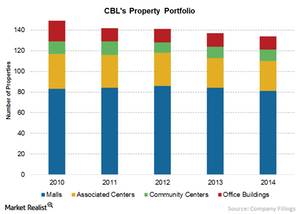 A Look Into CBL & Associates' Retail Mall Business
Business segments
CBL & Associates Properties' retail mall business comprises four main property portfolios—shopping malls, associated centers, community centers, and office buildings. As of fiscal 2014, CBL owned 134 properties, including 81 malls, 29 associated centers, 11 community centers, and 13 office buildings. Most of its retail REIT peers, such as Simon Property Group (SPG), General Growth Properties (GGP), and Macerich (MAC), have similar property portfolios. CBL (CBL) makes up 0.4% holdings of the SPDR Dow Jones REIT ETF (RWR).
Article continues below advertisement
Malls segment
Malls are generally anchored by two or more department stores and a wide variety of mall stores. Anchor tenants own or lease their stores, whereas non-anchor stores lease their locations. Additional freestanding stores and restaurants that either own or lease their stores are typically located along the perimeter of the malls' parking areas. CBL classifies its regional malls into four categories:
stabilized malls – malls that have completed their initial lease-up and have been open for more than three complete calendar years.
non-stabilized malls – malls that are in their initial lease-up phase. After three complete calendar years of operation, they are reclassified to the stabilized mall category.
non-core malls – if properties no longer meet the criteria for long-term investment, they are then considered non-core malls.
lender malls – these are the properties for which the company is working or intends to work with the lender on the terms of the loan secured by the related property.
The company's malls have approximately 7,603 mall stores. Retail chains lease approximately 78.2% of the occupied mall store GLA (gross lease area). Although mall stores occupy only 28.3% of the total mall GLA, with the remaining 71.7% being occupied by anchors and the rest vacant, the company's malls received 81.7% of their revenues from mall stores in 2014.
Article continues below advertisement
Associated centers
Associated centers are retail properties that are adjacent to a regional mall complex and include one or more anchors, or big box retailers, along with smaller tenants.
Community centers
Community centers typically have less development risk because of shorter development periods and lower costs. While community centers generally maintain higher occupancy levels and are more stable, they typically have slower rent growth because the anchor stores' rents are typically fixed and are for longer terms.
Community centers are designed to attract local and regional area customers and are typically anchored by a combination of supermarkets or value-priced stores that attract shoppers to each center's small shops.
Office buildings
CBL owned 13 office buildings in 2014, compared with 20 office buildings in 2010. CBL owns a 131,000-square foot office building where its corporate headquarters are located. The company occupies 63.9% of the total square footage of the building, while the rest is on a lease.
In the next part of the series, we'll discuss CBL's geographic coverage.