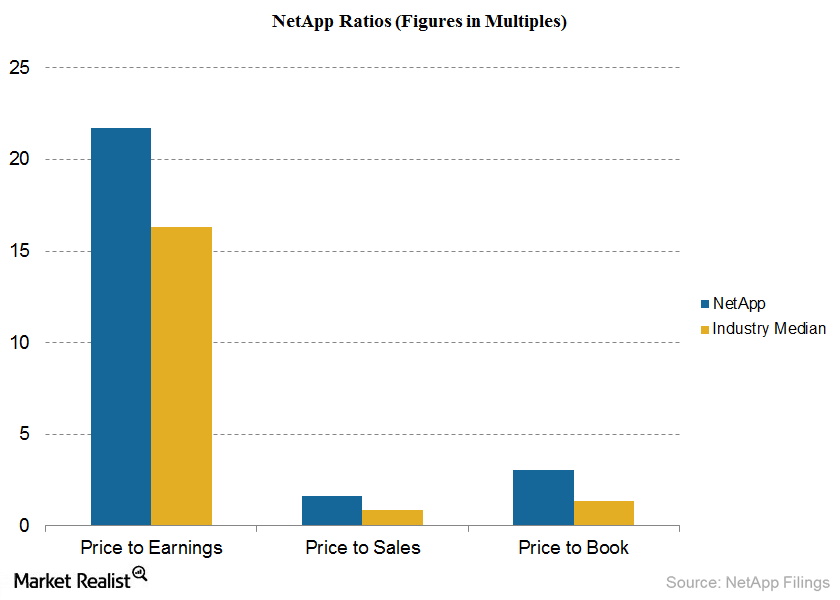 A Closer Look at NetApp's High Cash-to-Debt Ratio
By Adam Rogers

Dec. 4 2020, Updated 10:53 a.m. ET
Cash-to-debt ratio
A company's cash-to-debt ratio measures its financial strength. The cash-to-debt ratio of NetApp (NTAP) in 1Q16 was 3.33x, which is higher than the industry median of 1.36x.
NetApp's operating income in 1Q16 was -$26 million, and its interest expense was $11 million. A company's interest coverage ratio determines how easily it can pay interest expenses on outstanding debt, but as NetApp's operating income was negative, its interest coverage ratio cannot be calculated.
Article continues below advertisement
Current and quick ratio
Current and quick ratios measure a company's ability to pay short-term obligations. NetApp's current ratio is 2.47x higher than the industry median of 1.93x. The firm's quick ratio is 2.39x higher than the industry median of 1.44x.
Price-to-earnings, price-to-book, and price-to-sales ratios
As the above chart shows, NetApps PE (price-to-earnings) ratio for 1Q16 was 21.70x lower than the industry median of 16.32x. Its PB (price-to-book) ratio and PS (price-to-sales) ratios were 3.04x and 1.63x, respectively, compared to the industry median of 1.38x and 0.84x, respectively. In comparison, the PE ratio of peer companies like SanDisk Corporation (SNDK) and Western Digital Corporation (WDC) were 23.80x and 13.35x, respectively, in the corresponding quarter.
Dividend and share buyback
A company's dividend yield measures how much it pays out in dividends each year relative to its share price. In 1Q16, NetApp's trailing annual dividend yield was 2.17—close to the industry median of 2.25. NetApp's average share buyback ratio over the past three years was 5.90x, compared to the industry median of -1.30x.
NetApp makes up 0.25% of the Technology Select Sector SPDR ETF (XLK) and 0.19% of the Powershares QQQ ETF (QQQ). Read the next and final part of this series for a look at NetApps' stock in terms of its moving averages after the release of its 1Q16 earnings report.