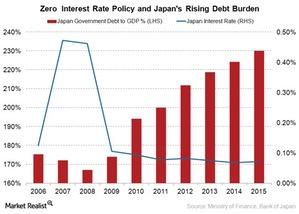 What Baggage Comes with a Zero Interest Rate Policy?
By Surbhi Jain

Updated
Zero interest rates sink economic growth
In his Investment Outlook for October 2015, Bill Gross highlights how the ZIRP (zero interest rate policy) acts as a "sinker" to economy growth. Policymakers around the world intend to catalyze growth by lowering interest rates to near-zero levels. However, they don't realize that they're doing the reverse. "Financially suppressed yields," as Gross terms them, do help these economies keep their "head above water." They help revive the credit flow in an economy. However, over the longer term, this policy comes with baggage that weighs down economic growth.
Article continues below advertisement
Japan gives a hint of this luggage
Zero destroys liability-based business models
Capitalist models like pension funds and insurance companies, which make money by investing the premiums, are among the first to fall prey to the policy. According to Gross, "zero destroys existing business models such as life insurance company balance sheets and pension funds, which in turn are expected to use the proceeds to pay benefits for an aging boomer society." These entities' business model, which seeks to grow money on interest rates—and shell out part of it as claims arise—has gone out the window.
As a result, many of these corporations are taking advantage of the rates to borrow money to buy back their own stock. The return that repurchasing generates is greater than the cost of the loans. AIG (AIG), Wells Fargo (WFC), MetLife (MET), and Prudential Financial (PRU) are some notable companies that have been engaged in share buyback programs this year. According to Gross, "such tactics generally don't yield the same long-term return as investing in research and development or upgrading factories and equipment."
With rates so low in the US, restricting income earned by these entities, and claims following their normal course, you definitely can't say that the ZIRP aims to benefit every sector in the US economy (SPY). Next, we'll look at the costs associated with a ZIRP.