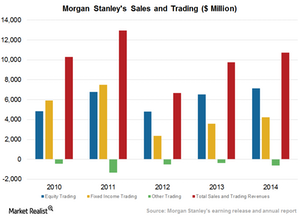 Morgan Stanley's Diversified Strategies in Sales and Trading
By Robert Karr

Sep. 15 2015, Updated 9:07 a.m. ET
Sales and trading activities
Morgan Stanley (MS) engages in trading, market-making, financing, and the sales of securities—including swaps, futures, options, and other structured instruments—on exchanges as well as on OTCs (over the counter). The company competes with finance sector powerhouses like Goldman Sachs Group (GS), JPMorgan Chase (JPM), Bank of America Corporation (BAC).
Morgan Stanley's Sales & Trading division generated $10.7 billion in revenues and formed 31.2% of the company's total revenues in 2014, compared to 32.7% in 2010.
Article continues below advertisement
Institutional equity
Morgan Stanley performs the functions of agent in addition to those of principal executor in transactions involving:
cash equity and equity-related products
common stock
ADRs (American Depositary Receipts)
global depositary receipts
ETFs (exchange-traded funds)
The company also helps in executing transactions in equity derivatives and equity-linked products, including:
warrants
structured notes
futures
options
equity swaps on indices, individual securities, baskets of securities, and other equity-related products
Morgan Stanley's brokerage services include consolidated clearance, settlement, custody, financing, and portfolio reporting to various clients across the globe.
Fixed income and commodities
Morgan Stanley plays a major role in investments, market-making of fixed-income securities (HYG) globally. It offers services primarily in:
investment and non-investment grade corporate debt
bank loans and sovereign securities
distressed debt and convertible bonds
emerging market bonds and loans
collateralized debt obligations
currency, interest rate, credit, and other fixed-income structured notes
The company plays the role of market maker in:
securities issued by SIVs (structured investment vehicles)
mortgage and other asset-backed securities
preferred stock and commercial paper
real estate loan products
municipal securities, money-market, and other short-term securities
Morgan Stanley is also involved in a creation, marketing, trading, and market-making of structured products backed by currencies, commodities, and other asset classes.
Research and investments
Morgan Stanley competes with broking houses and research and analytics companies in its Research division—a team consisting of economists, strategists, and industry analysts. The company's research team produces reports and studies on the US and the global economies for the following:
portfolio strategies
technical market analysis
financial markets
individual companies
industry developments
For more details about Morgan Stanley's wealth management services, check out the next part of this series.