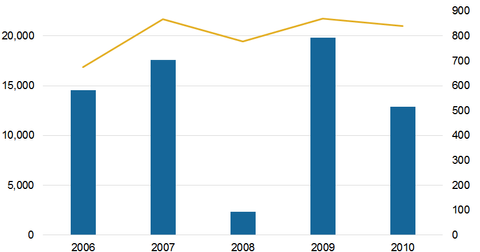 Major Risks Faced by Goldman Sachs in Rising Interest Environment
By Robert Karr

Updated
Slowing global growth
Goldman Sachs (GS) derives its revenues from investment banking, asset management, lending, and trading activity for its clients around the globe. The higher the transactions, returns, and activity, the more revenue the company generates.
The performance of company's investment banking unit, funds, trading activity depends heavily on macroeconomic environment in and outside of the US.
Difficult market conditions such as experienced currently globally because of China's slowdown and declining commodity prices. In slowing economy, fewer transactions, nonliquid market conditions, and low investor confidence can limit Goldman Sachs' transactions and profits, as well as adversely affect its overall business. Adverse market conditions can reduce Goldman Sachs' ability to originate and execute the new transactions, raise funds for its wealth management and asset management businesses, and increase trading activity.
Goldman Sachs' market value deteriorated by almost 80% during the 2007–2008 crisis. The company took a much bigger hit to its market value than what was experienced by some traditional asset managers, diversified financial services companies, and banks.
The level of transaction activity, trading, and fund management reduced substantially during the 2007–2009 timeframe due to lower capital availability, a stressed market scenario, and lower liquidity.
Article continues below advertisement
Rising interest rates
Goldman Sachs' banking operations have benefited from a low interest rate scenario over the past few years. The declining rates have reduced its interest expenses on long-term borrowings. The company managed higher net interest margins in the past few years. If rates were to rise sharply, the cost of capital of its various businesses, including that of banking, would rise steeply, resulting in lower net interest income.
This would also impact the performance of its various funds under management. Rising interest rates would also impact investing activity, likely resulting in fewer exist opportunities with high valuations. The company also faces risks in a decline in the pace or size of the investments, deteriorating debt markets, and nonliquid market conditions.