Home prices approach peak levels
The recent 5.4% year-over-year gain for home prices has put the FHFA (Federal Housing Finance Agency) House Price Index back at June 2006 levels. And the rate of price appreciation appears to be slowing. While most indices show the housing market bottoming out around February 2012, the FHFA House Price Index shows it bottoming out around May 2011.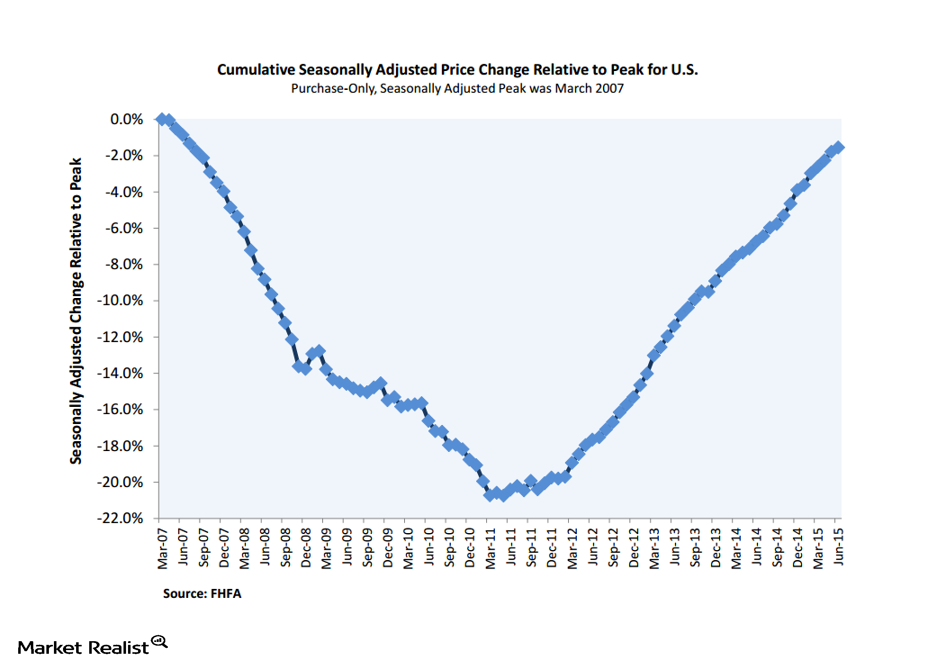 Perhaps distressed sales dominated at the end of 2011, which pushed the other indices lower. As you can see from the chart above, prices are within 1.6% of their prior peak.
Article continues below advertisement
Real estate prices are beginning to flatten—which makes sense, because wages haven't kept up with real estate prices since the downturn. Historically, real estate prices and incomes have correlated pretty closely. After the real estate market bottomed out, professional investor demand pushed up prices, but wages didn't move. This made further home price appreciation difficult.
On the other hand, low inventory continues to provide pricing support. The latest data from the National Association of Realtors pegs existing home inventory at 4.8 months, which is well below what would be considered a normal inventory (around 6.5 months or so).
Implications for mortgage REITs
The big agency REITs (real estate investment trusts) like American Capital Agency (AGNC), Annaly Capital (NLY), and MFA Financial (MFA) invest in MBS (mortgage-backed securities) that the government guarantees. But that doesn't mean these companies don't care about real estate prices.
Investors interested in trading the real estate sector as a whole should look at the iShares Mortgage Real Estate Capped ETF (REM).
As home prices rise, previously underwater homeowners gain the ability to refinance. This increases prepayment speeds. Since they're underwater, many homeowners hold 2006- and 2007-vintage MBS that have high coupons and low prepayment rates. As home prices appreciate, these loans will pay off.
If you're interested in making directional bets on interest rates, consider the iShares 20+ Year Treasury Bond ETF (TLT).
In the next and last part of this series, we'll look at how home price appreciation varies by state—and how this affects investors.