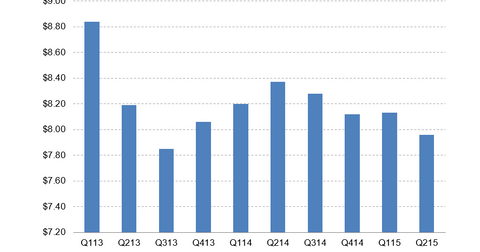 MFA Financial Reports a 2Q15 Fall in Book Value per Share
By Brent Nyitray, CFA, MBA

Aug. 6 2015, Published 8:20 a.m. ET
MFA Financial reports a decrease in book value
MFA Financial's (MFA) book value per share fell from $8.13 in the first quarter of 2015 to $7.96 in the second quarter. The fall was due in part to rising interest rates and slightly lower non-agency MBS prices during the quarter.
The ten-year bond yield rose from 1.92% to 2.32% over the quarter, which negatively affected the value of MFA's MBS portfolio. MBS spreads also widened during the quarter, partially because spreads were unusually tight at the end of the first quarter.
Article continues below advertisement
Book value per share: A critical metric for mortgage REITs
Since REITs are financials, they tend to trade off of two important metrics: dividend yield and book value per share. Dividend yield is typically why investors buy REITs in the first place. REITs tend to have much higher dividend yields than a typical S&P 500 stock. This is because they must distribute 90% of their earnings as dividends. Investors interested in trading in the mortgage REIT sector as a whole should look at the iShares Mortgage Real Estate Capped ETF (REM).
That said, investors often think of book value per share as a floor level for the stock. In other words, if dividends are high, the stock may trade in excess of book value. However, REITs generally tend to trade at or just under book value. This reflects the lack of liquidity of mortgage-backed securities. In theory, book value per share is the amount equity holders would receive if the entire portfolio were liquidated, but illiquid investments tend to have a small haircut to compensate investors.
MFA Financial is less sensitive to interest rates than most other mortgage REITs
MFA Financial is different than large agency REITs like American Capital Agency (AGNC) and Annaly Capital Management (NLY). You can read about American Capital Agency's earnings here. These two companies primarily invest in 30-year fixed-rate mortgages. They experienced declines in book value per share in late 2013 and early 2014, when interest rates ticked up.
These REITs have a higher interest rate risk than MFA Financial (MFA), Hatteras Financial (HTS), and Capstead Mortgage (CMO). They invest primarily in adjustable-rate mortgage-backed securities. Plus, MFA invests in MBS that bear credit risk. This lowers their interest rate risk. Investors interested in making directional bets on interest rates should look at the iShares 20+ Year Treasury Bond ETF (TLT).