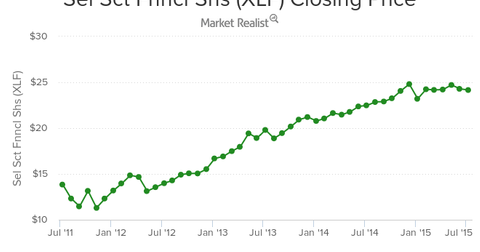 XLF Invests in Banks and Faces Concentration Risk
By Rebecca Keats

Updated
About XLF
Launched in December 1998, the Financial Select Sector SPDR ETF (XLF) is an ETF that's comprised of roughly 90 securities with $18.1 billion in assets. It seeks to provide investment results that correspond to the performance of the S&P Financial Select Sector Index. It attempts to provide an effective representation of the financial sector of the S&P 500 Index. XLF components can be broadly classified as banking at 47.90%, insurers at 18.20%, real estate at 0.25%, REITs at 19.20%, diversified financial services at 10.20%, commercial services at 1.30%, and savings and loans at 0.82%.
XLF faces concentration risk because ~31% of its investments are concentrated in the big banks—mainly Wells Fargo (WFC), Bank of New York Mellon (BK), JPMorgan Chase (JPM), and Bank of America (BAC).
XLF has nearly doubled since the crash in 2009 because the economic environment has been improving, the Fed phased out its QE (quantitative easing) program, and the Fed is starting to consider a rise in the interest rates.
Article continues below advertisement
Rising interest rates
Historically, interest rates and financials have been highly correlated. As interest rates rise, banking stocks perform well.
Banks benefit directly from rising interest rates because these periods usually coincide with strong economic growth. Higher interest rates mean that banks can charge more for lending. This expands the spread between lending rates and what they must pay on deposits.
Insurers also benefit from rising rates. They can earn greater returns on their premiums. Insurers usually invest these premiums in fixed-income instruments—their yields rise when interest rates rise in the economy.
Brokerage firms and asset managers also tend to benefit during rising rate environments. Expanding rates often coincide with periods of market strength and investor enthusiasm.