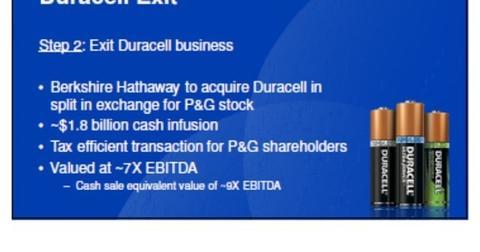 Procter & Gamble Favors Tax Efficient Deal with Coty
By Phalguni Soni

Jul. 24 2015, Updated 10:06 a.m. ET
Structuring the P&G–Coty 43-brand transaction
As yet, the deal structure for Procter & Gamble's, or P&G's (PG), proposed 43-beauty-brand merger with Coty (COTY) isn't finalized. Having said that, P&G did reveal that it favors an RMT (Reverse Morris Trust) split-off transaction.
Article continues below advertisement
Shareholder options
According to P&G guidance, the proposed transaction would give P&G shareholders the option to participate in a share exchange offer. With a split-merge transaction, P&G would transfer the 43 beauty brands to the new entity, the ownership of which would be transferred to those P&G shareholders that plan to exchange either all or part of their holdings in P&G. At the same time, the new entity would merge with Coty.
Tax implications of an RMT structure
An RMT-structured deal is considered more tax efficient. The 43 brands could realize about $5 billion to $7 billion in after-tax sale proceeds, depending on the final value for the transaction, P&G estimates.
An RMT structure helps the divesting company, P&G in this case, minimize the tax impact from the sale. A key condition would be that the shareholders of the divesting company hold a controlling interest in the new entity. P&G's existing shareholders are projected to own 52% of the new company, with Coty holding the remaining 48%.
P&G's experience in RMT structured deals
P&G has used the RMT structure in the past to divest non-core brands from its portfolio. It used a similar structure to divest Jif peanut butter and Folgers coffee to J.M. Smucker (SJM) in two separate transactions.
Earlier, P&G disclosed that the deal structure for its Duracell divestment to Warren Buffet's Berkshire Hathaway (BRK-B) is also tax efficient. It will be structured as a private split-exchange transaction. Berkshire's shares in P&G will be exchanged for those in a newly formed Duracell company. P&G plans to recapitalize the new company with ~$1.8 billion.
As S&P 500 Index components, P&G and Berkshire Hathaway (BRK-B) are part of the portfolio holdings of the SPDR S&P 500 ETF Trust (SPY), with portfolio weights of 1.2% and 1.4%, respectively. The iShares Core S&P 500 ETF (IVV) provides similar exposure to both companies.