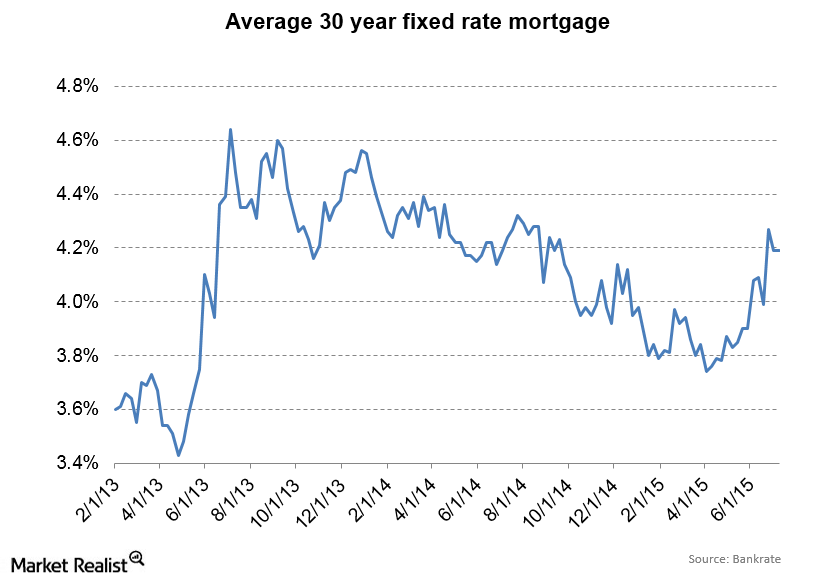 Mortgage Rates Fell Last Week as the Bond Market Sold Off
By Brent Nyitray, CFA, MBA

Jul. 15 2015, Updated 1:05 p.m. ET
Mortgage rates are a critical input for the housing market
Mortgage rates are the lifeblood of the housing market. The Fed's plan to help housing began when it pushed rates lower to allow people to refinance. The central bank also hoped that lowering mortgage rates would support home prices. Quantitative easing was a key part of that effort and the Fed is reluctant to sell its MBS holdings for fear of raising mortgage rates too much.
Article continues below advertisement
Mortgage rates fall
Mortgage rates have tended to fade the big moves in the bond market lately. When rates fall well below 1.9% on the ten-year bond, mortgage rates move lower—although very reluctantly. When rates rise to 2.3%, mortgage rates tend to rise only grudgingly. Last week, mortgage rates fell even though the bond market fell. This was because rates rose a few basis points too high on the Thursday before the fourth. This rise was due to the fact that, often, junior traders run the desks before holiday weekends and are usually told to "stay out of the way," or, in other words, price in order to prevent having a position.
As a general rule, mortgage rates are somewhat less volatile than bond yields. When we see big outsized moves in bond markets, mortgage rates tend to lag the move. Traders refer to this phenomenon as "fading" the market.
Keep in mind that any sort of Greek (or Chinese) contagion would generally be bullish for mortgage-backed securities that are guaranteed by the government, and this would push down mortgage rates.
Investors interested in making directional bets on interest rates should look at the iShares 20+ Year Treasury Bond ETF (TLT).
Effect on mortgage REITs
Mortgage bankers such as Nationstar Mortgage Holdings (NSM) are in a position to perhaps wring out a good 2015 after a dismal 2014. Certainly, the MBA (Mortgage Bankers Association) indices suggest an improvement.
If mortgage rates continue to fall, you should start seeing the rate of prepayments accelerate. Lately, it's not until rates hit 3.8% that prepays start kicking in. REITs that focus on agency mortgage-backed securities, including Annaly Capital (NLY) and American Capital Agency (AGNC), will have to deal with the combination of lower rates and increased rates of prepayment if mortgage rates fall back toward their lows.
Investors interested in trading in the mortgage REIT sector through an ETF should look at the iShares Mortgage Real Estate Capped ETF (REM).