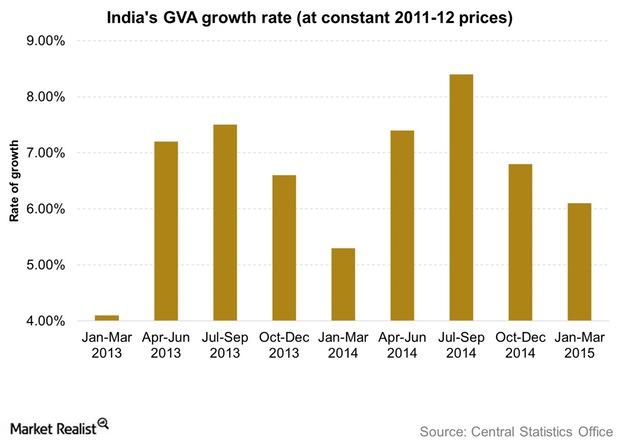 How Do India's Economic Indicators Look?
By David Ashworth

Jul. 3 2015, Updated 11:38 a.m. ET
Economic growth
India recently shifted its method of assessing economic output from GDP (gross domestic product) to GVA (gross value added). The relationship between them is as follows:
GDP = GVA + taxes on products – subsidies on products
Apart from the choice of GVA, the government also revised the base year to 2011–2012 from 2004–2005. Keep in mind that a fiscal year in India begins in April and ends in March of the following year.
This led to growth in economic output for fiscal 2013–2014 being revised to show a 6.9% pace instead of the 4.7% estimated by the GDP method.
According to the latest available information, India's GDP rose 7.3% in fiscal 2015, up from the 6.9% growth witnessed in fiscal 2014.
Article continues below advertisement
Consumer prices
Consumer prices have fallen in India in the past one year. Crude oil prices, which have hurt ETFs like the United States Oil Fund (USO) and the PowerShares DB Oil Fund (DBO), have benefited India immensely.
Inflation measured by the CPI (Consumer Price Index), which remained above the 8% level for most of the first half of 2014, read 5.0% in May 2015. This is within the RBI's (Reserve Bank of India) target of a 6% rate, which needs to be achieved by January 2016.
The RBI has reduced its key repossession rate three times already this year, and it now stands at 7.25%. Lower lending rates can further boost economic growth as well as help financial stocks like ICICI Bank (IBN) and HDFC Bank (HDB) and auto stocks like Tata Motors (TTM).
Industrial production
The IIP (Index of Industrial Production), the ever volatile measure of industrial production in India, has seen good growth in the past year. Except in October 2014, the IIP has not contracted in any other month from April 2014 to April 2015.
After looking at these three broad macroeconomic indicators, the picture for India doesn't look bad. Let's evaluate that further in the next article.