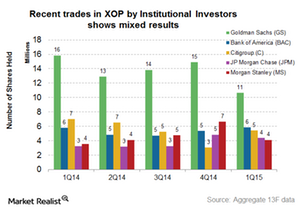 Hedge Funds Cut Oil Positions for 7th Week in a Row
By Stuart McKenzie

Updated
Institutional investors fail to demonstrate clear trends in trading activity in XOP
The below chart shows that while Goldman Sachs (GS) and Morgan Stanley (MS) have reduced their holdings in the SPDR S&P Oil & Gas Exploration & Production ETF (XOP) during 1Q15, other institutional investors such as Citigroup (C) and Bank of America (BAC) have ramped up their holdings in XOP.
Article continues below advertisement
Major hedge funds pile up on the XOP in 1Q15
The below chart shows that major hedge funds such as Ascend Capital and Moore Capital Management have initiated new positions in XOP, with the exception of Earnest Partners, which has slightly reduced its holdings in XOP. Major hedge funds could be perceived as having a more long-term view with regards to oil prices.
Cumulative fund flows for XOP have strongly risen in 1Q15, but fell in the last month
The above chart clearly shows that while XOP has sharply fallen over the past year, barring a rally since the beginning of 2015, fund flows into the XOP have sharply increased over the period, possibly indicating buying with a long-term view on oil.
Article continues below advertisement
Strong fund inflows into XOP, while investors redeem XLE and USO last week
Hedge funds cut oil positions for the seventh week in a row
Following large accumulations of positions in Brent in May, hedge funds have slowly been cutting down on their oil bets. The net long futures and options position held by funds in Brent crude fell by more than 30% over the last seven weeks. Additionally, the Greek crisis is contributing to the selling pressure of positions in oil. Plus, the threat of an interest rate rise is contributing to global economic uncertainty, dampening commodity investments.