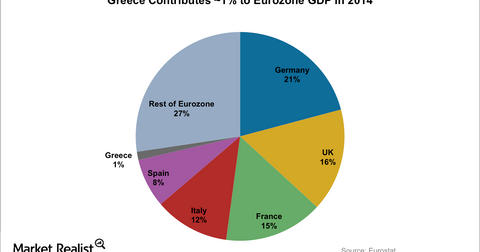 Eurozone Displays Muted Reaction to the Greek Referendum Vote
By Rebecca Keats

Updated
Eurozone stocks fall modestly
Eurozone shares, represented by the SPDR EURO STOXX 50 ETF (FEZ), fell by 3.7% on Monday—a fairly subdued reaction to Greek voter rejection of continued austerity measures. Overall market fallout was relatively contained. Germany's DAX fell by 1.5%, while the CAC-40 in France fell by 2%.
Banks bore the brunt of the sell-off, with the iShares MSCI Europe Financials ETF (EUFN) falling by 3.1% on Monday.
With stock markets in Athens shut, investors traded Greek shares listed in the United States. ADRs (American depositary receipts) of the National Bank of Greece (NBG) fell by ~14%, while others, such as Banco Santander (SAN), fell by 3.7%, and the Global X FTSE Greece 20 ETF (GREK) fell by ~7.5%.
The Greek economy is too small to cause a global spiral of economic doom. The share of the Greek economy in the Eurozone GDP (gross domestic product) is just about ~1%, and only 19 countries are using the euro.
Article continues below advertisement
Greece may not be that important
The links between other Eurozone countries and Greece are modest. Exports to Greece—excluding Cyprus—represent less than 0.5% of Eurozone exports. The global banking system has reduced its Greece exposure, from a massive $300 billion in 2008 to $54 billion as of mid 2014, according to Deutsche Bank (DB).
Several big banks say the risks of a Greek exit from the Eurozone had risen since Sunday's "No" vote. Investors point to the European Central Bank's capacity to limit financial contagion and step in if market turmoil spreads.