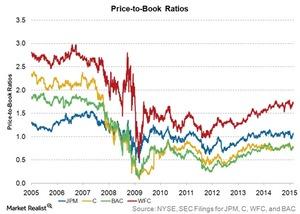 Bank of America: A Stock to Watch Moving Forward
By Rekha Khandelwal, CFA

Jul. 20 2015, Updated 12:06 p.m. ET
Return on equity improves
Bank of America (BAC) reported an ROE (return on equity) of 8.75% for the second quarter of 2015. The return on tangible common equity was 12.78% for the quarter. Bank of America's ROE has trailed that of peers J.P. Morgan (JPM), Wells Fargo (WFC), and even Citigroup (C) for more than four years. BAC's ROE at the end of the first quarter was 3.5%, while C's was 3.9%, WFC's was 12.8%, and JPM's ROE was 9.8%.
Article continues below advertisement
The bank's performance was hit really hard by the effects of the residential mortgage crisis and the series of litigations that followed it. The bank is now refocusing on its regular business. According to the bank, the bigger litigation charges are now settled. A much lower litigation cost in the second quarter seems to validate that.
Bank of America's price-to-book ratio, too, has trailed that of its peers. Its lower ROE would appear to justify that, at least in part. The above graph shows the historical price-to-book ratios for the four big banks.
The banking sector makes up 37% of the Financial Select Sector SPDR Fund (XLF).
Outlook
In the currently challenging interest rate environment, banks are looking to trim costs to improve profitability. Bank of America seems to have made good progress on that front.
Net interest income, which accounts for roughly half the bank's total revenues, is expected to get a boost as interest rates rise. Bank of America expects a $3.9 billion benefit to its net interest income if there's a positive 100-basis point parallel shift in the yield curve. Even considering a faster deposit re-pricing, the bank's performance should almost certainly benefit.
Overall, with the litigations behind it and the interest rate environment expected to become more favorable, Bank of America should continue to perform well. The bank just needs to continue with its expense controls.