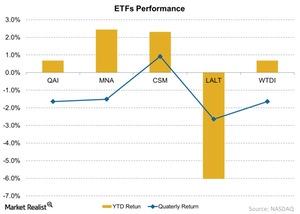 Alternative ETFs: An Overview
By Ivan Kading

Aug. 17 2015, Updated 1:01 p.m. ET
Liquid alts
In this series, we'll explore the different types of alternative ETFs available in the market and their strategies by looking at a combination of five alternative ETFs. Alternative ETFs, also called liquid alts, have investment strategies similar to hedge funds. The primary objective of an alternative ETF is to replicate the risk-adjusted return of hedge funds using various hedge fund investment styles. These include:
emerging markets
event-driven
fixed income arbitrage
global macro
long or short equity
market neutral
The above graph shows that quarterly returns for liquid alts do not correlate with the year-to-date (or YTD) returns for the selected ETFs, except CSM and LALT. This disassociation occurs because these ETFs mimic highly unstable hedge fund strategies that replicate their performance.
There are more than 20 alternative ETFs in the US securities market. We will examine the five most actively traded ETFs, which have different investment styles:
Article continues below advertisement
What is an ETF index?
The aim of all alternative ETFs is to generate a positive return for their investors regardless of the market trend, similar to hedge funds. They have differing primary approaches to achieving this aim. All these ETFs try to replicate the performance of their corresponding index. Unlike traditional market-oriented indexes, they seek to track the returns of distinct hedge fund investment styles.
An ETF's index can hold any asset that is in accordance with its investment strategy. For example, QAI's index consists of other funds such as the Vanguard Short-Term Bond ETF (BSV) and the iShares 1–3 Year Treasury Bond ETF (SHY) in its portfolio. The ProShares Large Cap Core Plus ETF (CSM), on the other hand, holds shares such as Apple (AAPL), Microsoft (MSFT), and Johnson & Johnson (JNJ) in its portfolio.
Performance evaluation
As a relatively new ETF, the PowerShares Multi-Strategy Alternative Portfolio ETF (LALT) is the worst performer, with a YTD return of -6.0%. It should take some time before it generates a positive return. QAI, MNA, CSM, and WTDI have generated positive returns for their investors, delivering 0.7%, 2.4%, 2.3%, and 0.7% returns, respectively.
What is so unique about alternative ETFs? We'll explore this in the next part.