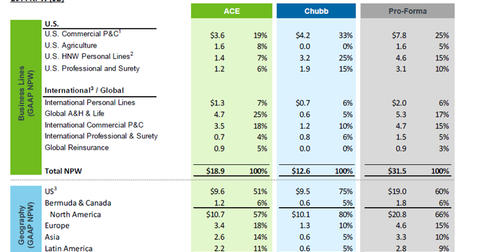 ACE and Chubb Possess Complementary Strengths
By Robert Karr

Updated
Products and geography
ACE (ACE) is a globally leading writer of industrial, commercial, and specialty property and casualty insurance, with a broad product portfolio. The company also has a global presence in accident and health insurance, and it offers developing market products to small and medium-sized enterprises as well.
Meanwhile, Chubb (CB) is a leading writer of US middle-market commercial property and casualty insurance, and offers high-net-worth personal lines of insurance in the US. It also offers professional and personal lines of insurance products globally.
The combined entity is expected to generate 60% of its total revenues from the US, 15% from Europe, 10% from Asia, and the remainder from Latin America, Bermuda, and Canada.
Article continues below advertisement
In the US, 25% of total revenues will come from the property and casualty business. In this business, it faces major competition from Travelers Companies (TRV), Allianz, and AIG (AIG). Travelers Companies and AIG generated operating income of $3.6 billion and $6.6 billion, respectively, in the past twelve months.
ACE has substantial international operations, with a presence in 54 countries. In contrast, Chubb has a more US-centric model, but does have a meaningful presence in 25 countries nevertheless.
Customer base, distribution
ACE primarily caters to large corporate, upper-middle-market, commercial, and high-net-worth businesses in the US (XLF). In the international market, it caters to large corporate, middle-market, and small commercial businesses. It also offers personal lines of insurance for lower- and middle-income groups.
Chubb also primarily caters to middle-market commercials and high-net-worth businesses in the US. Internationally, Chubb predominantly caters to high-net-worth and middle-market corporations.
ACE markets its products through US-based brokers, international brokers, agencies, and direct marketing. Meanwhile, Chubb uses US agencies and brokers in both local and international markets.