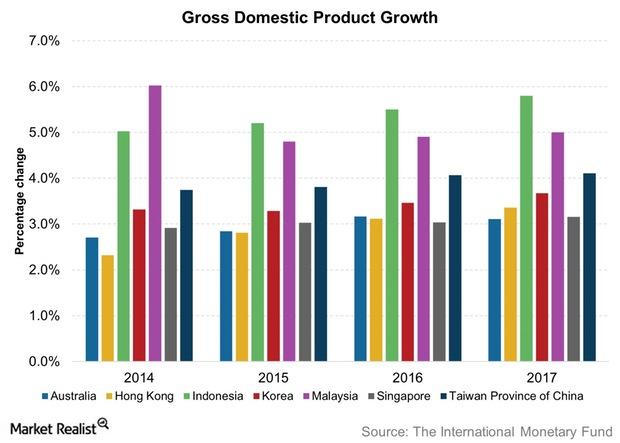 What Do Key Metrics Say about Asia-Pacific Countries?
By David Ashworth

Jun. 12 2015, Published 1:42 p.m. ET
Why these metrics?
In the previous article, we listed the countries in the Asia-Pacific region that we'll look at in this series. But first, let's look at a few macro metrics.
The reason for looking at these metrics is to draw a broad comparison of the macroeconomic state of these countries. Though these metrics by themselves cannot paint a complete picture of these economies, they can give you an idea about the broad state of their economies, like the cover of a book. But as the adage goes, don't judge a book by its cover. Deeper analysis and periodic monitoring are key to ensuring that you're comfortable investing in these countries.
Article continues below advertisement
Gross domestic product
The GDP (or gross domestic product) of the three developed economies in the Asia-Pacific region that we're considering are expected to rise between 2.8% and 3.4%, depending on the country, in each year from 2015 to 2017. Singapore is expected to lead this growth in 2015 and Hong Kong in 2017.
On the other hand, for the emerging nations under review, the GDP growth range for these years is expected to be between 3.3% to 5.8% for different economies. Indonesia and Malaysia are expected to lead this pack.
These economic growth rates look quite robust when compared to growth rates for some advanced economies in Europe and emerging economies like Brazil and Russia.
Stocks from Australia, South Korea, Hong Kong, and Singapore form ~37% of the portfolio of the Vanguard FTSE Pacific ETF (VPL). Except South Korea, stocks of other countries form ~87% of the portfolio of the iShares MSCI Pacific ex-Japan Fund (EPP). Stocks like Toyota Motor (TM), BHP Billiton (BHP), and Westpac Banking Corporation (WBK) are among the major holdings.
In the next article, we'll look at a couple more macro metrics.