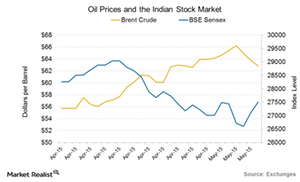 India's Foreign Investors Upset about Minimum Alternate Tax Rules
By Stuart McKenzie

May. 21 2015, Published 11:25 a.m. ET
BSE Sensex falls by a massive 723 points amid heavy selling by foreign institutional investors
On May 6, 2015, the BSE (Bombay Stock Exchange) Sensex shed 723 points, representing a significant loss of 2.67%. This loss probably wiped out any returns made by FII (foreign institutional investors) funds in the Indian equity markets since the beginning of the year.
As you can see in chart above, the bearish trend in the BSE Sensex corresponded with the surge in oil prices. The stock index fell by nearly 2,000 points throughout April 2015.
Article continues below advertisement
Foreign institutional investors divert funds to other Asian markets
According to a May 7 article in the Economic Times—a leading Indian daily—FIIs have invested funds worth over $30 billion in Canadian, Brazilian, Japanese, South Korean, and Taiwanese equities since the beginning of April. In contrast, Indian markets have experienced a massive drain of foreign funds during the same period, mostly fueled by uncertainty over the minimum alternate tax rules.
Investors who wish to get exposure to Brazilian or Canadian markets could consider investing in the iShares MSCI Brazil Capped ETF (EWZ) or the iShares MSCI Canada ETF (EWC), respectively. EWZ offered a YTD (year-to-date) return of -2.65% as of May 20, 2015, and EWC offered a YTD return of -1.39%.
The YTD performance of Indian companies listed as ADRs (American depository receipts) was mixed. While HDFC Bank (HDB) posted a YTD return of 13.2%, ICICI Bank (IBN) posted a YTD return of -8.74% as of May 14, 2015. Healthcare company Dr. Reddy's Laboratories (RDY) posted a YTD return of 8.7%.
Minimum alternate tax demands cause anger and panic selling
Indian Finance Minister Arun Jaitley presented tax demands on foreign investors last month. Jaitley revealed that more than $6 billion is expected to be raised via the MAT (minimum alternate tax).
The MAT is a form of taxation that didn't apply to international funds before. Short-term capital gains originating from equity and associated products are taxed at 15% and FPIs (foreign portfolio investors) were exempt from long-term capital gains tax. If foreign funds are subject to the MAT, then they'd have to pay a 20% tax, even on long-term capital gains. According to an article published by the Financial Times, tax demands were sent to ~100 of the approximately 6,000 overseas funds registered in India.
Aberdeen Asset Management has recently challenged the tax claim, a move that will be watched by other international funds with investments in India. As well, a lobby group based in Hong Kong is thinking about challenging the MAT at the Supreme Court of India. In the meantime, the Indian government announced that it has instructed tax officials not to make any further demands of FIIs over the MAT issue.
Unfortunately, much of the damage has already been done. These events are probably dampening investor confidence in Indian Prime Minister Narendra Modi's regime, a government that had previously espoused openness toward foreign investment.
The next part of this series will look at the Modi administration's failure to successfully implement reforms in areas such as land acquisition and the goods and services tax. We'll see if this failure has further spooked the Indian stock market.