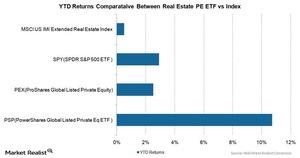 ETFs that Invest in Private Equity Funds
By Arthur Penn

May. 19 2015, Updated 11:07 a.m. ET
Picking ETFs that invest in real estate
Investors can purchase shares of ETFs that track an index of publicly traded companies that invest in PE funds. Because you are purchasing individual shares via the stock exchange, you do not have to be concerned about the minimum investment requirements.
The PowerShares Listed Private Equity Portfolio ETF (PSP) and the ProShares Global Listed Private Equity ETF (PEX) are a couple of ETFs that invest their assets in publicly listed private equity companies. They track an index that is comprised of publicly listed private equity companies. For example, PSP tracks the Global Listed Private Equity Index and PEX tracks the LPX Direct Listed Private Equity Index.
Article continues below advertisement
What drives the returns of a real estate PE fund?
The returns from realty PE funds depend on the performance of the broader realty market. Given the comparatively greater risk and lesser liquidity, it's reasonable for investors to expect an annualized return of at least 20% over the life of the fund.
In realty, PEs aren't very liquid. However, investors can always choose to sell their portfolio to another purchaser. Investors vying to sell may not always manage to find a buyer, and if they do, the offer can be at a huge discount to the market value.
When investing, it is important to pick the fund that is right for you. Investors should find out about a fund's reputation, its lineage, and the fund's management team. A good way to establish a fund's track record is by looking at its performance in the past. Prior to investing in a PE fund, it's imperative that you understand the fund's mandate and objective. Some of the liquid real estate ETFs are CBL & Associates Properties (CBL), Simon Property Group (SPG), and Toll Brothers (TOL).