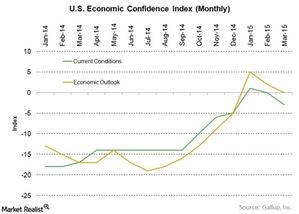 SPY Is Down 0.26% as Economic Confidence Wanes
Markets dipped as economic confidence turned negative in the US
The SPDR S&P 500 ETF (SPY) lost 0.26% and the iShares Core S&P 500 (IVV) dipped 0.30% on negative news from the Gallup US Confidence Index on April 7. The dip was led by T Rowe Price Group (TROW), Avon Products (AVP), Halliburton (HAL), and Macerich (MAC), which lost 3.74%, 2.97%, 2.96%, and 2.82%, respectively.
Article continues below advertisement
Economic confidence turns negative in the US
The Gallup Economic Confidence Index (or ECI), issued monthly by Gallup, is a broad indicator of Americans' confidence in national economic conditions. It's a composite of two equally weighted components:
1. current conditions
2. economic outlook
The index ranges from plus 100 to minus 100. A positive reading indicates a positive perception among Americans about the current and expected economic conditions in the US, and vice versa.
A negative economic outlook among Americans pulls down March ECI
According to the report, "Gallup's US Economic Confidence Index registered its first negative monthly score of 2015 in March, slipping to -2. This is down from +1 in February and +3 in January." After seven consecutive years of negative readings, the index had finally emerged into positive territory in January this year, recording a +3 in January, followed by a +1 in February.
The current conditions score for March stood at 0, which was the same as February, while the economic outlook score sank to -3 from the +2 recorded in February. 49% of Americans surveyed said that the economy is "getting worse."
While the Gallup economic confidence report for the US may have spread some gloom among investors in the US markets, the consumer credit and JOLTS reports helped investors regain confidence in the improving fundamentals of the economy. We'll take a look at these indicator readings in the next part of the series.