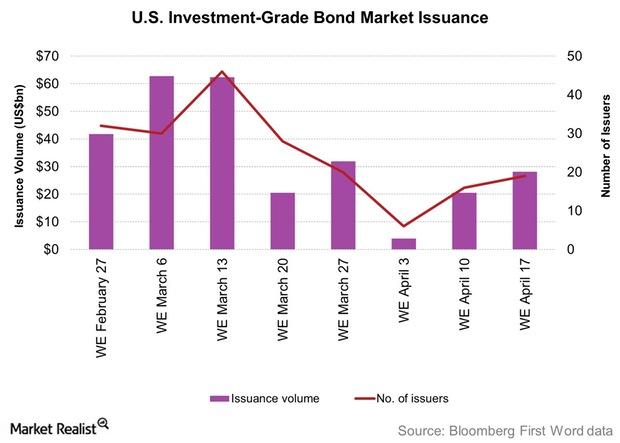 Primary Market Investment-Grade Corporate Bond Activity Up
By David Ashworth

Apr. 27 2015, Updated 10:06 p.m. ET
Deals and volumes for investment-grade bonds
Corporate investment-grade issuance rose to $28.15 billion in the primary markets in the week ending April 17, 2015. This was 37.1% higher than the issuance worth $20.525 billion in the previous week. The number of issuers rose to 19—up by three compared with the previous week. Primary market issuance activity was seen on all days of the week, except April 17.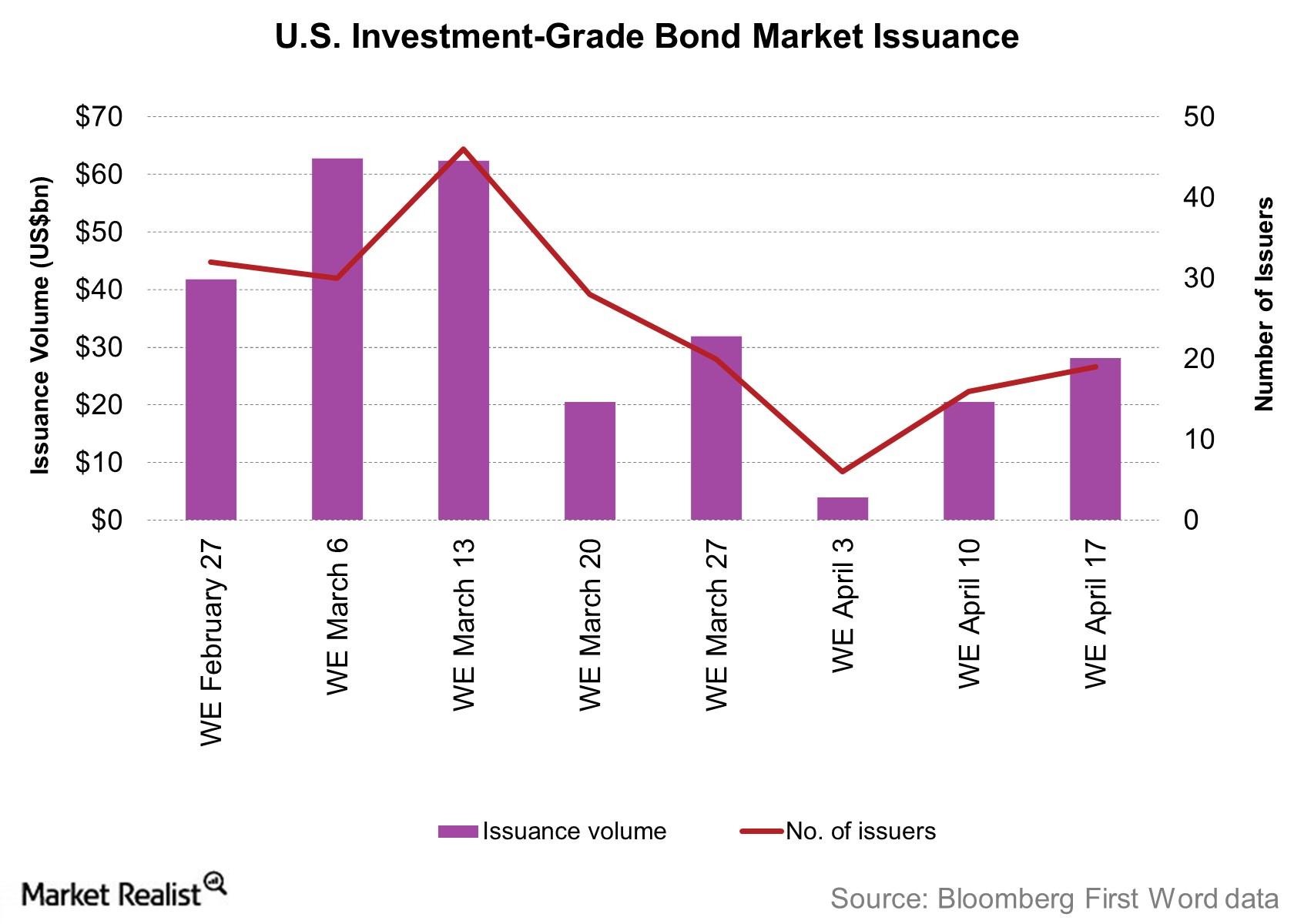 Investment-grade bond yields, including Treasuries and corporate bonds, fell due to economic pointers like retail sales and inflation. Dovish comments by policymakers Eric Rosengren and Dennis Lockhart also led to a fall in yields.
This had a positive impact on Treasuries and related ETFs like the iShares Barclays 20+ Year Treasury Bond Fund (TLT) and the iShares Barclays 7–10 Year Treasury Bond Fund (IEF).
Bank of America (BAC), the United Kingdom–based Standard Chartered Plc, JPMorgan Chase (JPM), and Goldman Sachs (GS) were the highest issuers of bonds in the week ending April 17.
Article continues below advertisement
Issuance by quality and maturity
Fixed-rate issues formed 99.1% of all issuances last week. Looking at the credit ratings of these issues, BBB-rated issuers were the most prolific. They made up 48.7%, or $13.7 billion, in issuance. They were followed by A-rated issuers, which formed 26.5% of the week's issuance.
In terms of maturity, the largest chunk of issuance was in the five-year maturity category, making up 41.7% of all issues. It was followed by the ten-year maturity category, which saw 27.0% of all issuances. The >30-year maturity category accounted for 2.1% of total issuance. Perpetuals saw issuance worth $4.0 billion after a $2.25 billion issuance in the previous week.
In the next part of this series, we'll highlight the major deals, including pricing, credit rating, and yields.