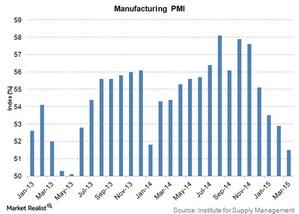 Manufacturing Expands in March: A Positive Sign for Banks?
Manufacturing PMI
The manufacturing PMI (purchasing managers' index) for March released on April 1, 2015. It decreased to 51.5% from February's reading of 52.9%. A reading above 50% indicates that the manufacturing economy is generally expanding.
The ISM (Institute for Supply Management) issues the "Manufacturing ISM Report on Business" each month with data on economic activity in the manufacturing sector. March was the 27th month in a row that recorded a PMI reading greater than 50%.
Article continues below advertisement
A positive indicator for the banking sector?
When manufacturing is expanding, it's a positive indicator for overall economic growth. Generally, it results in positive GDP (gross domestic product) growth. Banking sector companies—like JPMorgan Chase (JPM), Wells Fargo (WFC), Citigroup (C), and Bank of America (BAC)—and ETFs like the Financial Select Sector SPDR ETF (XLF) will benefit from a growing economy.
As the economy grows, the demand for loans increases, income levels rise, and defaults on loans decrease. This results in lower charge-offs and loss reserves. An improving economy also usually leads to increased capital market activity. This increases banks' fee-based, non-interest income.
Index declines for the fourth month in a row
Even though the PMI is above 50%, it has been declining for the last four months. This indicates that the growth rate in manufacturing slowed down during this period. The above chart shows the monthly PMI reading over the last year.
The West Coast port labor issues, lower oil prices, remaining effects of a harsh winter, higher healthcare premium costs, and challenges linked with a stronger currency are some of the reasons contributing to the slower growth pace.
The S&P 500 closed 0.4% lower on the day of the release—compared to the previous close. The SPDR S&P Bank ETF (KBE) and SPDR S&P Regional Banking ETF (KRE) declined 0.21% and 0.12%, respectively—compared to the previous close.
The PMI is based on five indices with equal weights. We'll discuss these indices more in the next part of this series.