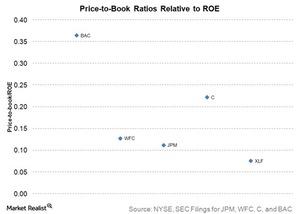 Major Litigations End, but Bank of America Faces New Challenge
The Fed adds stress to Bank of America
As Bank of America (BAC) leaves behind major litigation expenses, it's trying to focus more on growth. But its troubles don't seem to end. In March, the Federal Reserve issued a conditional non-objection to the company's capital plan. The bank is required to resubmit its plan and address certain weaknesses identified in the capital planning process.
The bank did receive approval, however, for its capital actions, including a dividend of $0.05 per share and $4 billion of stock repurchase.
The Federal Reserve approved capital plans of 28 banks earlier in March. While JP Morgan, Citigroup (C), and Wells Fargo (WFC) got unconditional approval, Bank of America received a conditional non-objection based on qualitative grounds.
Article continues below advertisement
Bank makes efforts to ensure approval
According to Bank of America, it's making all possible efforts to ensure that its September plan resubmission is approved. Key actions the bank is taking include assigning Terry Laughlin to lead the resubmission, having detailed discussions with regulators regarding specified issues, and engaging independent third parties to review the work.
The bank issued $3 billion of preferred stock in 1Q15.
Is Bank of America overvalued?
The above graph shows the price-to-book ratios of the big four banks, JP Morgan (JPM), Wells Fargo (WFC), Bank of America (BAC), and Citigroup (C). It also shows the ratio for the Financial Select Sector SPDR ETF (XLF). The ratios are relative to their returns on equity (or ROE).
While all four banks look overvalued relative to the XLF, which includes stocks of other financial service companies apart from the banks, BAC looks overvalued relative to the other three banks.
This analysis is based solely on ROE. Other factors also need to be considered to arrive at a conclusion. But it points to a possible overvaluation of Bank of America stock, which looks cheap due to its low price-to-book ratio.