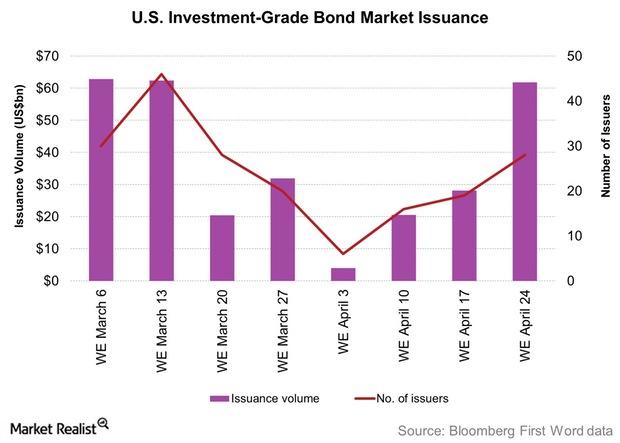 Investment-Grade Issuance Surpasses $60 Billion Again in 2015
By David Ashworth

Apr. 29 2015, Published 12:08 p.m. ET
Deals and volumes for investment-grade bonds
Corporate investment-grade issuance surged to $61.8 billion in the primary markets in the week ending April 24, 2015. This was 119.5% higher than the previous week's $28.15 billion issuance. The number of issuers rose to 28—up by nine compared with the previous week.
The primary market issuance has increased as April has progressed. This is primarily due to weak economic indicators, which have hinted at a later, rather than sooner, rate hike by the US Federal Reserve. However, a few weak pointers from Europe and China have propped yields up by stoking the risk-on sentiment.
Last week, Treasury yields rose, leading to a rise in high-grade corporate bonds and a fall in ETFs like the iShares Barclays 20+ Year Treasury Bond Fund (TLT) and the iShares Barclays 7–10 Year Treasury Bond Fund (IEF).
AT&T (T), Citigroup (C), Harris Corporation (HRS), and Morgan Stanley (MS) were the highest issuers of bonds in the week ending April 24.
Article continues below advertisement
Issuance by quality and maturity
Fixed-rate issues formed 94.2% of all issuances last week. Looking at the credit ratings of these issues, BBB-rated issuers were the most prolific. They made up 57.8%, or $35.75 billion, in issuance. They were followed by AAA-rated and A-rated issuers, which formed 16.2% and 15.9% of the week's issuance, respectively.
In terms of maturity, the largest chunk of issuance was in the ten-year maturity category, making up 28.1% of all issues. It was followed by the three-year maturity category, which saw 21.0% of the issuances. The >30-year maturity category did not see any issuance. Perpetuals saw issuances worth $3 billion after $4 billion in issuances during the previous week.
In the next part of this series, we'll highlight the major deals, including pricing, credit rating, and yields.