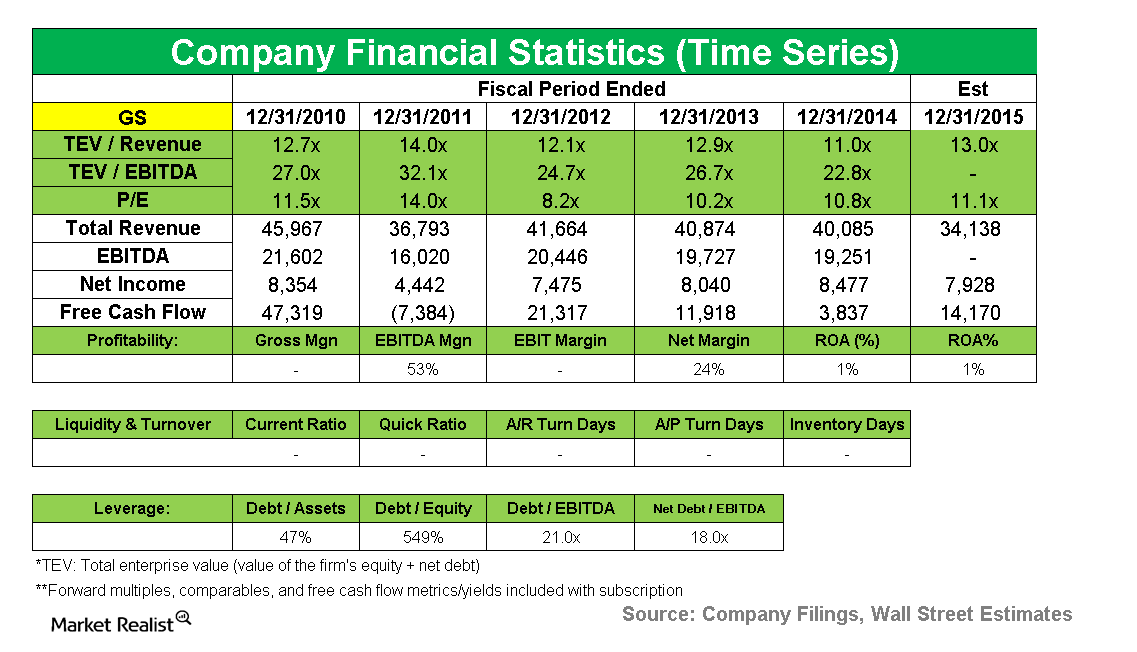 Highfields Capital Exits Goldman Sachs
By Stuart McKenzie

Apr. 7 2015, Updated 2:06 p.m. ET
Highfields Capital drops Goldman Sachs
Highfields Capital sold its entire stake in Goldman Sachs Group (GS) by selling all its 960,000 shares in the company. Goldman Sachs is part of the SPDR Dow Jones Industrial Average ETF Trust (DIA) with a 6.64% representation. The company is also part of the iShares US Broker Dealers ETF (IAI) with a representation of 9.35%.
Article continues below advertisement
Goldman Sachs overview
Goldman Sachs is a global investment management, securities, and investment banking firm that offers a wide array of financial services to a diversified and substantial client base, including individuals with high net worths, governments, financial institutions, and corporations. The company operates across four segments: Investment Management, Investing & Lending, Institutional Client Services, and Investment Banking.
Healthy 2014 results, but fourth quarter performance stalls
The Investment Banking segment generated pre-tax earnings of $2.8 billion during 2014, up from $2.5 billion during 2013. Institutional Client Services generated a pre-tax earnings of $4.3 billion in 2014, up from $3.9 billion in 2013. Investment & Lending registered $4 billion in 2014, a fall from $4.3 billion during 2014, while Investment Management posted pre-tax earnings of $1.4 billion in 2014, up from $1.1 billion in 2013.
Article continues below advertisement
However, the company's fourth quarter financial performance fell short of the previous quarter and the prior-year period performance. Net revenues were $7.7 billion for 4Q14, a 12% decline compared to the prior-year period figures. Diluted earnings per share for 4Q14 came to a figure of $4.38, which was 5% lower than the amount for the prior-year period.
Fixed income trading revenue within Goldman Sachs fell during the fourth quarter by 30% compared to prior-year period levels. Fixed income trading revenues also declined for peers Citigroup (C), Bank of America (BAC), and JP Morgan Chase (JPM), which caused them to report earnings that were weaker than expected. However, Goldman Sachs offset this decline with stronger results in other divisions such as the equities division.
Strong financial profile
The company's balance sheet size has reduced from 2007 year end by 24%. However, the liquidity pool has tripled and common equity has increased by 85% since then. Leverage has reduced from more than 26.2x at 2007 year end to 10.3x at 2014 year end.
Key growth and revenue opportunities
The Investment Banking division has several key revenue opportunities. Global economic growth is likely to fuel investment banking revenues with expected growth in global real GDP to be ~20% over the coming five years. Increasing strategic cross-border deals are fueling Goldman Sachs' merger and acquisition deal volume. Growing debt and equity markets bolster the revenues of this division.
With regards to Institutional Client Services, key revenue opportunities include technological innovation, capital markets growth, increased activity across borders, market share expansion via high barriers to entry and competitor exit, and enhanced value for liquidity provisioning.
The company expects growth in Investment Management from a client-focused approach for addressing diverse needs via risk management, customized solutions, product innovation, and global reach.
The next article in this series will take a look at Highfields Capital's exit from American International Group (AIG).